StrangeForms 2020 - Weekend Ticket
Brudenell Social Club, Leeds.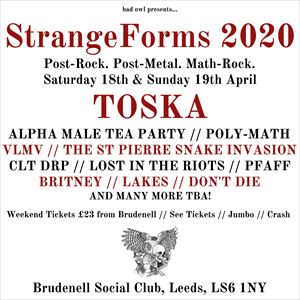 More information about StrangeForms 2020 - Weekend Ticket tickets
"StrangeForms Festival returns for its seventh year. The event, which has played host to the likes of Rolo Tomassi, Vennart, The Physics House Band, Svalbard, Talons & Gallops in previous years, draws its line-up predominantly from the world of math-rock, post-rock and post-metal.
Taking place over the weekend of 18th / 19th April 2020, the first wave of acts includes Toska, Alpha Male Tea Party, Poly-Math, The St Pierre Snake Invasion, VLMV, Lost In The Riots, CLT DRP, Britney, Pfaff, Lakes & Don't Die. The final acts will be announced in early 2020 with the release of day tickets."