T.Rextasy
Robin 2, Wolverhampton.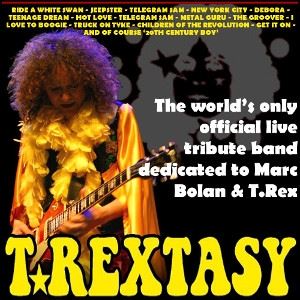 No under 14s in the standing area, 14 - 17s must be accompanied by an adult. No refunds will be given for incorrectly booked tickets.
More information about T.Rextasy tickets
+ Glam Rock Disco
March 1973 saw the release of a record that would bridge the generation gap and become a rock anthem to both young and old. '20th Century Boy' was written and composed by Marc Bolan, who with his band, T.Rex, was one of the most flamboyant and charismatic of the original glam rock era. 4O years on, the song has become one of the most iconic and legendary, along with Bolan's other best selling singles of that year that included The Groover and Truck On Tyke. Sadly, only 4 years later, in September 1977 Marc's life was cut short after a car accident – he was still only 29 years old.
Marc Bolan is now recognised as the innovator of the 1970s glam-rock scene and with T.Rextasy, who June Bolan (Marc's wife), after seeing Danielz and the band perform at Wembley Arena, commented "If there was anyone to follow in Marc's shoes, I'd like it to be you!" now carrying the baton, everyone can once more enjoy the spirit of a T.Rex concert!
T.Rextasy have now been gigging around the world for over 20 years, a career that ironically out lives Marc's very own T.Rex. The band are now accepted as the world's only official live tribute band dedicated to Marc Bolan & T.Rex, and the only band endorsed and approved by Marc Bolan's family, estate, original ex-members of T.Rex, and Bolan's catalogue management. Due their passion, musical ability, longevity, and attention to detail, the band is consistently described by many as 'legendary' and 'beyond the boundaries of tribute'.
They have, with their Marc Bolan doppelganger lead vocalist and lead guitarist, Danielz, signed with Columbia Records and Liberation DVD, won the accolade of 'Best Live Tribute Band in the UK' on BBC 1's 'Battle of the Fantasy Bands', performed at the original Billy Elliot Premiere Party, filmed for the BBC TV 'Arena Special', toured around the world from Europe to Japan and have performed at most of the Arenas in the UK. They have played alongside many of the 1970s original contemporaries such as Wizzard, Cockney Rebel, Slade, and Ian Hunter, to name a few. In September 2007 they played to 40,000 at the BBC Proms Night at London's Hyde Park, and headlined their own sell-out concert at the Shepherds Bush Empire with their special guests Marc Almond, Gloria Jones, Clem Burke (drummer with Blondie), Linda Lewis, and Shakin' Stevens. In September 2012, T.Rextasy returned to the Shepherds Bush Empire on request by the PRS (Performing Right Society) to perform and hold court for a 35th commemorative concert for Marc Bolan where their special guests included Boy George, Rick Wakeman, Tony Visconti (Bolan's producer), Glen Matlock (Sex Pistols), Alvin Stardust, and others.
The band have also had accepted invitations from ex-members of T.Rex such as Mickey Finn, Marc's son Rolan Bolan, and Bolan/Bowie producer Tony Visconti, to play alongside them in past special Anniversary concerts. Dino Dines, a long-time member of T.Rex, actually joined T.Rextasy and remained with them until sadly passing away a few years ago….the list goes on…
In 2012, Danielz was offered the first ever publishing deal to a tribute artist to write a book about his 'life in a tribute band'. The book, entitled 'The Spirit of Marc Bolan', was issued by Wymer Publishing late last year and has a world-wide distribution.
T.Rextasy play homage to Bolan's biggest hits, such as 'Ride a White Swan', 'Jeepster', 'Telegram Sam', 'New York City', 'Debora', 'Teenage Dream', 'Hot Love', 'Telegram Sam', 'Metal Guru', 'The Groover', 'I Love To Boogie', 'Truck On Tyke' 'Children of the Revolution', 'Get it On', and of course '20th Century Boy'. The band plays totally live recreating the music, performance and excitement of those heady and outrageous glam rock times without resorting to backing discs of any kind and a massively enjoyable time for all ages. If you want to know exactly what a Marc Bolan rock'n'roll concert felt like in the 1970s, this gig is for you!
For more information go to: www.facebook.com/t.rextasy
T.Rextasy – awarded 'The Best Live Tribute Band in the UK' by BBC1 TV.
'They're the closest you're ever going to get to the real thing' - Bill Legend (original T.Rex drummer)
'T.Rextasy is the tribute act who breaks all the rules by being bloody brilliant. Danielz is an exact replica of Marc, he's uncanny - The Independent on Sunday
'Danielz is a curator of Bolan's life, a perfectionist protector of the legacy – T.Rextasy play with a poignant, flamboyant skill.' - The Observer
"Danielz looks and sounds uncannily like Bolan and has dedicated his life to the man" - The Times
"Danielz is more than a career lookalike. Here we have a serious guitarist with the animal grace of early Bolan and the clear un-equivocal love of the music" - The Stage
"Danielz just freaks me out!" - Mickey Finn (original T.Rex percussionist)
www.twitter.com/TRextasyBand
www.trextasy.com