Talkfest - International Music Festivals Forum
ISCTE - IUL, Lisboa.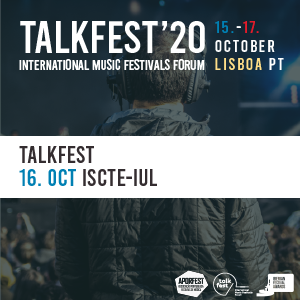 O
Talkfest – International Music Festivals Forum
, é o único fórum ibérico dedicado exclusivamente à discussão e reflexão sobre o futuro dos festivais de música, tendo por base a análise do "estado da arte" em Portugal. Hoje é comunicado também em Espanha e restante Europa, apresentando uma programação multidisciplinar exclusivamente em torno da temática dos festivais de música o que o torna ímpar. É, desde a edição de 2014, organizado pela
APORFEST – Associação Portuguesa de Festivais de Música
. Tem como objetivos:
a) Garantir uma discussão anual, credível e isenta, sobre os festivais de música em Portugal e a nível Internacional para abordar, debater e aprimorar a gestão deste tipo de eventos;
b) Analisar o atual estado desta atividade numa vertente técnica e científica, com enfoque na gestão, na internacionalização, e na psicologia aplicada às organizações (e.g. gestão de recursos humanos; formação; recrutamento temporário; comunicação para público);
c) Obter um conjunto de ideias para desafios futuros, no sentido de criar e potenciar sinergias entre todos os envolvidos;
d) Promover um espaço de contacto entre todos os interessados, numa vertente business to business (B2B);
e) Envolver entidades nacionais e internacionais numa plataforma de discussão e partilha de conhecimento - técnico e científico;
f) Receber, fundamentar e debater o conhecimento advindo dos key speakers internacionais, ligados a festivais europeus;
g) Oferecer uma programação cultural ampla e diversificada dentro da área dos festivais de música e direcionada a público em geral.
This event is for 18 and over - No refunds will be issued for under 18s.
More information about Talkfest - International Music Festivals Forum tickets
A edição de 2020 contará com várias novidades: mais pontos de programação, oradores e oportunidades para fomentação de negócio.