Talkfest - International Music Festivals Forum
TALKFEST, ONLINE.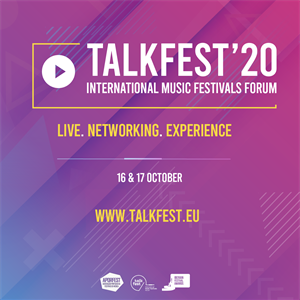 Talkfest - International Music Festivals Forum
is the only Iberian forum dedicated to the discussion and reflection on the future of music festivals, based on an analysis of the "state of the art" in Portugal. Today it's also communicated in Spain, Brazil and in the rest of Europe, presenting an exclusive multidisciplinary program around the theme of music festivals that becomes unique. Since the 2014 edition it's organized by
APORFEST - Portuguese Music Festivals Association
. The main objectives are:
a) Guarantee an annual, credible and exempt discussion about music festivals in Portugal and at an international level to address, debate and improve the management of this type of events;
b) Analyze the current status of this activity from a technical and scientific perspective, with a focus on management, internationalization and psychology applied to organizations (e.g., human resources management; training; temporary recruitment; communication to the public);
c) Obtain a set of ideas for future challenges, with no sense of creating and enhancing synergies between all those involved;
d) Promote a space of contact between all interested parties, in a business to business (B2B) aspect;
e) Involve national and international entities in a platform for discussion and knowledge sharing - technical and scientific;
f) Receive, substantiate and discuss the knowledge from international keynote speakers, linked to European and Worldwide festivals;
g) Offer a broad and diversified cultural program in the area of music festivals and aimed at the general public.
Due to the current status the 2020 edition it mostly takes place in an online format, thus enhancing its networking (between speakers, delegates and partners) and an assimilation of knowledge, thus enhancing everyone's exposure and increasing the number of delegates present.
This event is for 14 and over - No refunds will be issued for under 14s.
More information about Talkfest - International Music Festivals Forum tickets
A edição de 2020 contará com várias novidades: mais pontos de programação, oradores e oportunidades para fomentação de negócio.