Terry Pratchett's Guards Guards
Chorley Little Theatre, Chorley.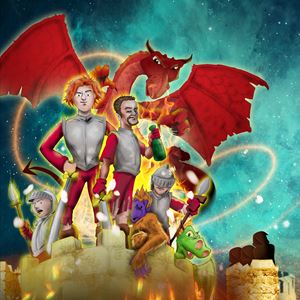 Best seating allocated as the orders come in. Wheelchair users please contact 01257 264362
More information about Terry Pratchett's Guards Guards tickets
Written by Terry Pratchett. Adapted by Stephen Briggs.
A comedic fantasy adventure play set in a fantasy world of dragons and wizards. This is the tale of the under-valued Night Watch, defenders of Ankh-Morpork (the capital city). New recruit Constable Carrot is law-abiding and keen to fight for truth, justice and the Ankh-Morporkian Way. The city is under threat from a 60-foot fire-breathing dragon (summoned by a group of malcontented tradesman) and only this motley crew (and the University librarian - an orangutan) can stop it. Packed with jokes and adventure this is a wild comic fantasy about everyday people doing extraordinary things.
Adapted from the best-selling book by Sir Terry Pratchett, set on the fictional Discworld, a flat disc balanced on the backs of four elephants which in turn stand on the back of a giant turtle, Great A'Tuin that gently journies through a universe quite similar to ours. This production marks what would have been Sir Terry's 70th birthday.