TFSP: Bloodhound
The Castle and Falcon, Birmingham.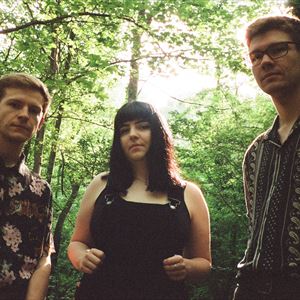 This event is for 16 and over - No refunds will be issued for under 16s.
More information about TFSP: Bloodhound tickets
The Future Sound Project return to The Castle & Falcon for another show spotlighting some of the best new sounds.
Bloodhound - Three-piece atmospheric-grunge band from Hull taking influence from a huge array of artists including Drenge, Queens of The Stone Age, Alice In Chains, and Royal Blood. Formed in 2015, they have continued to advance and develop year on year.
2020 is set to be a huge year for Bloodhound with their debut album due out in January 2020, further releases throughout the year, plenty of shows to accompany these, and tracks already being broadcast on stations nationwide such as BBC Radio 6 Music. Their sound delivers monstrous riffs and mammoth choruses alongside psychedelic noise that twists their songs into an atmospheric utopia.
"They deliver what it says on the tin with style and assurance." - Tom Robinson, BBC 6Music
"They were great, they are great, and I don't think it would be controversial to say they'll be even better in the future." - The Gryphon
"Monstrous riffs, mammoth melodies, I love it." - Alan Raw, BBC Introducing Humberside
"Totally on it right now." - Warren Records
http://www.facebook.com/bloodhoundhull
http://www.instagram.com/bloodhoundhull
http://www.twitter.com/bloodhoundhull
http://www.musicglue.com/bloodhound
https://soundcloud.com/bloodhoundhull/worn-down-single
https://soundcloud.com/bloodhoundhull/praise-single
--------------------------------------------------------------------
IOTA aim to deliver great songs that provide the backdrop to truly emotional stories and spiritually intelligent concepts that connect with all but the shallowest souls. Mixing and twisting the finest elements of the last 50 years of alternative guitar music, but sprinkling their own investigative experimentation liberally on top, then finally wrapping it all in a pretty bow; you can't fail but get tingles from this deadly combination of beauty and beast. You'll bang your head yet wipe a tear.
Facebook - https://www.facebook.com/IOTAOFFICIALUK/
Youtube - https://www.youtube.com/watch?v=i3orJl0zgwk (this track Blush is from our recent EP release which can be pushed)
Instagram - https://www.instagram.com/iotaofficialuk/
--------------------------------------------------------------------
Redditch four piece band Euphoria are reviving garage rock with strong influences from 60's pop and blues, 70's punk rock, 80's new wave, 90's grunge and lo-fi. using classic four chord riffs and high sustain screaming fuzz the band pack a punch when it comes to energy. comprising of drummer Dylan Winn, bassist Noah Mayall, rhythm guitarist Liam Redman and lead guitarist/vocalist Joe Hyde. after meeting at school Mayall and Hyde began hunting for other members and came across a drummer and a second guitarist and they have ever since been Euphoria and continue to rock the west midlands with the garage underground scene.
https://music.apple.com/gb/artist/euphoria/1474403804
https://www.instagram.com/euphoria_gb/
--------------------------------------------------------------------
Nameless Faces - We are a band situated in Solihull and have been performing since 2015. Recently we have got a new drummer and I have took over as singer. This has only made the band better with a strong list of originals and covers to perform on the 16th!
Our Instagram is @namelessfacesband
-------------------------------------------------------------------