TFSP: POMELO FELLOWS
Muthers Studio, Birmingham.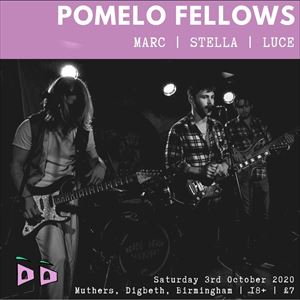 This event is for 18 and over - No refunds will be issued for under 18s.
More information about TFSP: POMELO FELLOWS tickets
The Future Sound Project is proud to be bringing some of the most exciting new acts to Muthers Studio.
Pomelo Fellows are a four piece band formed within the windy streets of Birmingham, fusing your ears with zesty Indie Rock, with the occasional Donk.
https://www.instagram.com/pomelofellows/?hl=en
Coming from the heart of The Black Country, MARC are a no nonsense rock n roll band. They utilise anthemic riffs with catchy choruses to create songs that resonate with their audiences.
Their debut EP "unapologetically rock & roll" is available on all streaming platforms right now and it definitely shouldn't be missed.
https://open.spotify.com/track/0MKl17hhkNQBenzYHS8q4j?si=D1tyORaDSDubRYfaGz_bCQ
Stella is a singer/songwriter from Birmingham whose unique style is not one to miss out on. Blending elements of pop, hip-hop, ska and jazz to create her own hybrid-genre, she entices a listener with her story-telling and relatable outlook on life. After winning the Best Pop Act at The Birmingham Music Awards 2018, Stella snowballed through the last couple of years with two more nominations in 2019 and 2020. She has played at well-known venues in and around the city such as The Sunflower Lounge, The Castle and Falcon and The Flapper, and hopes to explore new cities in the near future.
www.instagram.com/stellawozhere
www.facebook.com/stellawozhere
https://soundcloud.com/stellawozhere/take-a-look-demo
LUCE is a fresh and current 21-year-old singer/songwriter based in the East Midlands. Her style is known for transforming the limitations of a single style as she blends alternative and electric pop. With this mixture her music incorporates captivating riffs on guitar while combining the features of funky synths and heavy beats. LUCE aims to take audiences on a journey with her personal and emotive lyrics, that all troubled souls can relate to. The influences for her work are artists such as Billie Ellish, Halsey, Bea Miller, and Bishop Briggs, as she replicates instrumentation similar to these. The musicians she performs with have studied and often played with her coming up to 3 years, they recently formed as a session band for her 8 months ago through the passion and love they share for this fun genre. It's clear they attain an incredible connection through the delivery of their powerful performances.
Right now LUCE is in the process of recording her debut singles and her first EP, which is set to release in April of next year. She is more than ready to take the music scene in her stride and looks forward to all the excitement it has in store for her.
Instagram: Lucewaldenmusichttps://www.instagram.com/lucewaldenmusic/
Facebook Page: Luce Walden Music https://m.facebook.com/Luce-Walden-Music-1726910184008495/?ref=bookmarks
Twitter: lucywaldenMusichttps://mobile.twitter.com/lucywaldenmusic