Thank You For The Music
Webster Theatre, Arbroath.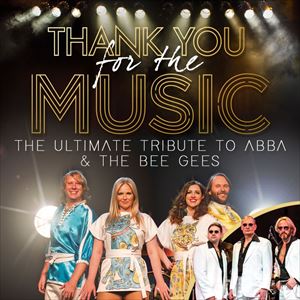 More information about Thank You For The Music tickets
Please do not book tickets on level 4 if you or the person(s) for whom you are
booking have any issues with vertigo or fear of heights.

Please be aware that it will not be possible to reseat you at a lower level.

Thank You for The Music
The ultimate tribute to ABBA & the Bee Gees
This international smash-hit tribute show brings all of ABBA's number one hits to the stage in a production like no other. The hugely popular show, combines the unmistakable harmonies, colourful costumes, and dazzling performances by an all-star cast that'll have you thanking ABBA for the music again and again!
Record-breaking movies, smash-hit West End musicals, chart-topping albums and singles - ABBA's incredible legacy now lives on in concert with this all-new spectacular show.
And as if that wasn't enough? you'll also be treated to non-stop hits from the UK's top Bee Gees tribute act too meaning everyone in the audience will win, win, and win again!

ABBA HITS: Waterloo, Dancing Queen, Super Trouper, Mamma Mia, Knowing Me, Knowing You, Gimme,Gimme, Gimme, The Winner Takes It All, Thank You for the Music
BEE GEES HITS: Night Fever, Stayin' Alive, More Than A Woman, , How Deep is Your Love?, Jive Talkin', You Win Again

This is a tribute show and is no way affiliated with any original artists/estates/management companies or similar shows.