THe Blackheart Orchestra + support
The Met Lounge, Peterborough.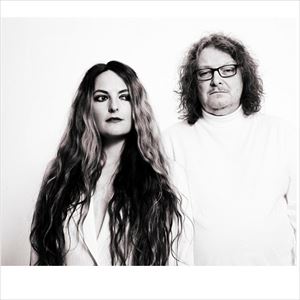 Show is open to 14+ - all under 16's to be accomp by 18+/adult
14+ only. 14s to 15s must be accompanied by an adult. No refunds will be given for incorrectly booked tickets.
More information about THe Blackheart Orchestra + support tickets
The Blackheart Orchestra
With their Top 20 charting album Mesmeranto, and Chrissy Mostyn recently voted in the Top 10 world female vocalists, the UK's inspirational award-winning electronic folk pioneers The Blackheart Orchestra take their music to a new, unexplored dimension. Described as "A mesmerizing powerhouse" "A life-enhancing listening event" "An avant-garde musical utopia" and "One of the most extraordinary voices singing anywhere today" vocalist Chrissy Mostyn and multi-instrumentalist Rick Pilkington combine classical influences with vintage synthesisers and ultra contemporary electronica to create music that takes over the senses.
As emotionally charged as it is musically accomplished, expect sublime harmonies, virtuoso guitar, piano and synthesiser playing and songwriting and arrangements that take the audience "from heartbreaking to uplifting in a single song". With awards including Best British Duo, a Limelight Progressive Music Award Nomination and being voted in the UK's Top 4 Best New Bands, plus performances at the London Palladium and Royal Albert Hall, The Blackheart Orchestra are two voices and thirteen instruments that create a unique musical experience that is truly ground-breaking.
---------------------------------------------------------------------
No.18 Official UK Rock Album Chart October 2019
---------------------------------------------------------------------
No.16 Official UK Independent Album Chart October 2019
---------------------------------------------------------------------
No.23 Official UK Progressive Album Chart October 2019
---------------------------------------------------------------------
Voted No.4 Top 10 Albums of 2019 Big Takeover Magazine USA
---------------------------------------------------------------------
Voted twice in Rock Writers' Top 20 Albums of 2019
---------------------------------------------------------------------
Chrissy Mostyn Voted No.8 Best Female Vocalist
PROG Magazine Readers Poll January 2020
---------------------------------------------------------------------
Nominated for The Limelight Award
2018 Progressive Music Awards
---------------------------------------------------------------------
Winner 'Best British Duo' Exposure Music Awards
---------------------------------------------------------------------
Voted No.4 Best New Band of 2018
PROG Magazine Readers' Poll
---------------------------------------------------------------------
"Ethereal" Daily Express
"A great band" BBC Radio 2
"Verges closer to an art installation than an album" Big Takeover Magazine USA
"So stunning and beautiful that it reaches areas of your head and heart that you never knew existed"
Metal Planet
"Genuinely profound and evocative. A life-enhancing listening event" Louder Than War
"One of the most extraordinary female voices singing anywhere" Rock Society Magazine
"Pure five star, a perfect album, one that I will listen to for the rest of my life"
James Douglas KCW Today
"Easily one of my albums of the century" John Brodie-Good Gonzo Weekly
"Their songs are all stand-alone masterpieces" Fatea Magazine
"One of the truly great song-writing partnerships" Kensington Chelsea & Westminster Today
"Phenomenally talented – a fantastic show" Uber Rock
"Everything else almost seems boring in comparison" Rear View Mirror (Australia)
"Captivating, graceful and elegant" Maximum Volume
"The band's fresh new sound is delicate and fragrant" PROG Magazine
"Listening to Mostyn's voice for the first time is a breathtaking experience" After Dark
"Haunting, mysterious…impeccably technical and proficient" Steve Gould Midlands Metalheads
"These are the musicians that the creative musicians listen to" Scene & Heard
"A mesmerizing powerhouse – Mostyn's vocals are a force to be reckoned with" Xune Magazine
"Expect the unexpected, a refreshing lack of boundaries" Louder Than War
"Liberating and unconventional - an avant-garde musical utopia with an impeccable vocal capability sending you weak at the knees" No Depression
"Beautiful, powerful and inspiring" Steve Hackett, Genesis
"Wow…just wow!" Annie Haslam, Renaissance
"A special and singular voice" Highclouds
"Smouldering and brooding, a mesmerizing performance" Louder Than War
"Cinematic yet intimate, from intense and soaring to dreamy and tranquil…exquisite"
Sonic Bandwagon
"They remind us why music lifts us up" Dalton Delan, American Public Broadcasting (USA)
"From heartbreaking to uplifting in a single song" Western Star (Australia)
"An ethereal musical landscape, an enchanting masterpiece" Purple Revolver (UK)
"Absolute brilliance" A Journal of Musical Things (Canada)
theblackheartorchestra.com
facebook.com/theblackheartorchestra