the Bon Jovi Experience
Waterfront, Norwich.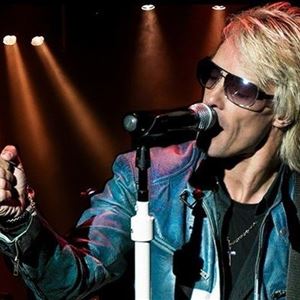 9s - 16s must be accompanied by an adult. No refunds will be given for incorrectly booked tickets.
More information about the Bon Jovi Experience tickets
The Bon Jovi Experience are the world's first and finest tribute to the great Bon Jovi and are the world's ONLY tribute to have been requested by and to have performed live on stage with Jon Bon Jovi himself they are also the only tribute to have been featured on the official Bon Jovi website.
"Quite simply a mirror image of the man himself" "Have you seen this guy he looks so much like Jon Bon Jovi it's freaky man" - Chad Kroeger (Nickelback)
The best tribute I've ever seen JON BON JOVI.
Performing Live with the REAL Jon Bon Jovi:
Chad Kroeger, frontman with Bon Jovis guest band Nickelback, picked Tony from the forty thousand strong crowd and said, i quote, have you seen this guy hes that much like Jon bon Jovi its freaky manon Monday 13th November 2006, Tony and the band received the ultimate accolade when they were requested by Bon Jovi to perform live at the Hard Rock Cafe in London for the celebrations surrounding Bon Jovis induction into the UK Rock n Roll Hall of Fame. during this performance Jon Bon Jovi himself joined Tony and the band on the stage and performed the song Who says you cant go home to the delight of the sell-out Backstage with Jon Bon Jovi fan club audience of die hard fans.
Tony was then later asked by Coty Prestige to fly to Barcelona and appear as Jon Bon Jovi to help promote the Jon Bon Jovi/Kenneth Cole fragrance 'R.S.V.P'. Jon and Kenneth invited 500 guests to a star-studded R.S.V.P. charity event earlier that year and raised over 1 million dollars.So if you enjoy Bon Jovi stadium rock
The BJE are the Worlds VERY best tribute and are definitely a band not to be missed so catch them at a club or theatre near you NOW.