The Bon Jovi Experience Tickets
Brudenell Social Club, Leeds.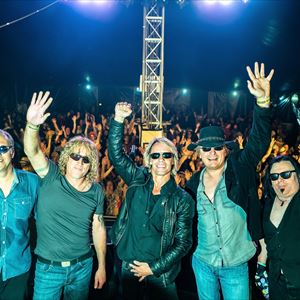 14+ only. 14s to 15s must be accompanied by an adult. No refunds will be given for incorrectly booked tickets.
More information about The Bon Jovi Experience tickets
The Bon Jovi Experience are the worlds first and finest tribute to the great Bon Jovi and are the worlds ONLY tribute to have been requested by and to have performed live on stage with Jon Bon Jovi himself they are also the only tribute to have been featured on the official Bon Jovi website.
The BJE features Jon Bon Jovi clone frontman Tony (Jon) but unlike many other tributes the great musicians accompanying him are also top look-alikes, Ed ( Richie Sambora) – Guitars, Jon(Tico Torres) – Drums, Steve (Hugh McDonald) – Bass and Steve (Dave Bryan) – Keyboards. Individually and as a band they produce the looks and sounds of the real thing so closely that:
We quote:
"Having The BJE perform here was, without question, like having the actual stadium band in my club"
"The difference between watching the BJE and any other Bon Jovi tribute band is that with other bands you realize they are just a tribute but as you watch The BJE you forget they are a tribute they are just that good".
"You could almost be fooled into thinking that this band was the real thing".
"Quite simply a mirror image of the man himself"
" Have you seen this guy he looks so much like Jon Bon Jovi it's freaky man" – Chad Kroeger (Nickelback)
"The best tribute iv ever seen" – JON BON JOVI.
Tony has been performing the music of Bon Jovi for nearly 20 years now and the band were the first to be asked to perform on the US New Jersey tribute album, "Garden State of Mind". He is the only UK Bon Jovi tribute band frontman to actually be asked to appear on Channel 4's Big Breakfast show with the real Jon Bon Jovi and Richie Sambora.
They were told by BBC Radio 1 DJ and TV personality, Chris Evans, that "they were the best tribute band he had ever seen" and were also asked to appear live on Chris's show. The band has a significant fan base not to mention Tonys various TV and film appearance's, including ITVs International Stars and their Doubles hosted by Dale Winton, BBCs Doctors series and British film Kinky Boots.



Tony attended a number of Bon Jovi shows himself and was actually mobbed when he was mistaken for the real Jon Bon Jovi by hundreds of screaming Bon Jovi fans and official photographer's asking for autographs and pictures.
Chad Kroeger, frontman with Bon Jovi's guest band Nickelback, even picked Tony from the forty thousand strong crowd and said, i quote, "have you seen this guy he's that much like Jon bon Jovi its freaky man" then had his own photographer take pictures of him!
As a result Tony has been the topic of conversation on the official Bon Jovi website… an honour that no other Bon Jovi tribute band frontman has ever gained.
Then, on Monday 13th November 2006, Tony and the band received the ultimate accolade when they were requested by Bon Jovi to perform live at the Hard Rock Cafe in London for the celebrations surrounding Bon Jovi's induction into the UK Rock n Roll Hall of Fame. during this performance Jon Bon Jovi himself joined Tony and the band on the stage and performed the song 'Who say's you can't go home' to the delight of the sell-out 'Backstage with Jon Bon Jovi' fan club audience of die hard fans.
Another amazing honour that no other Bon Jovi tribute band has ever received.
Following this, Tony was then later asked by Coty Prestige to fly to Barcelona and appear as Jon Bon Jovi to help promote the Jon Bon Jovi/Kenneth Cole fragrance 'R.S.V.P'. Jon and Kenneth invited 500 guests to a star-studded R.S.V.P. charity event earlier that year and raised over 1 million dollars.
Touring all over the world, (every major city & town in the UK, the Channel Islands, Malta, Holland, Spain, Ireland, and the very first Bon Jovi tribute to tour the Middle East to name but a few!) the band have seen many sell out shows in a great many venues and theatres. With wild reactions from the crowds and with a full tour schedule for 2014, the boys are no strangers to living the rock n roll dream!
So if you enjoy Bon Jovi stadium rock The BJE are the Worlds VERY best tribute and are definitely a band not to be missed so catch them at a club or theatre near you… NOW.