The Counterfeit Stones
Assembly Hall, Tunbridge Wells.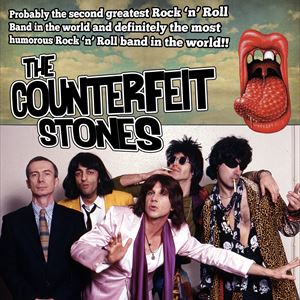 Running time: 2 hours 20 mins approx. (inc. interval)
---
For specific access requests including wheelchair bookings or general access information please contact the theatre Box Office on 01892 530613 (Mon to Fri, 9am-5pm and Sat, 12pm-5pm).
---
For evening performances you can pre-pay for parking in Crescent Road car park from 6pm on the day of the show. Use the RingGo app, website or phone number with location code 28507 to avoid queuing for the car park payment machines.
More information about The Counterfeit Stones tickets
It's phoney rock 'n' roll and you'll like it!
Why pay a fortune to see ants in a stadium when for a fraction of the price you can get up close and smell the faking brilliance of the Counterfeit Stones - described as a Rolling Stones' hooky masterpiece.
Their latest fast shuffle – Not Fake Away, promises yet another night of utter copy-rock. Now in their 29th year, these fraud-stars continue to deliver the best "mock 'n' roll" show on the circuit.
Packed with big hits, retro fashion, vintage guitars and a huge dollop of "Spinal Tap" humour, it's Satis-fiction guaranteed. So "Come On" all you Honky Tonks and Pretend The Night Together!