The Courettes Tickets
Westgarth Social Club, Middlesbrough.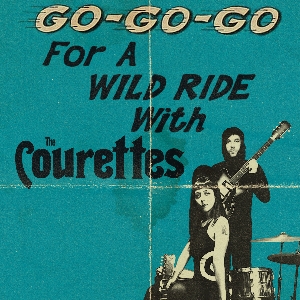 Parking for 8/12 vehicles

On street parking is not enforced on weekends

Upstairs room for this one . There is no lift.

You can smoke and drink outside the venue.
Under 18s must be accompanied by an adult. We cannot issue refunds to under 18s who are not accompanied by an adult.
More information about The Courettes tickets



PRESS -

"The real sound of now busting through my door, new songs that keep kicking

the history forward. I can't imagine my turntable without The Courettes"

-David Fricke (Rolling Stone, USA)

"Mixing Duane Eddy Twang and 60s girl-group vocals. Give it some stick with The Courettes!"

-Vive Le Rock

"The dynamite just keeps on coming!"

-Lindsay Hutton (The Next Big Thing, UK)

"Crooked girl group love songs fed on a diet of bathtub amphetamines"

Henry Hutton (Shindig!, UK)

The Courettes is the garage duo sensation from Brazil and Denmark!

In 2020, The Courettes signed with legendary British label Damaged Goods and their brand new smash single "Want You! Like a Cigarette" is gonna be out on May 22nd! The new release has already started to get some praising:

"The first Courettes record for Damaged Goods will be May's "Want You! Like A Cigarette"/ "Night Time (The Boy Of Mine)" single. This extraordinary 45 marries a super-charged pop top side to a charging, rampaging flip" Kieron Tyler (Mojo, UK)

"The world's greatest two person rock n' roll ensemble just gets better and better" Lindsay Hutton (The Next Big Thing, UK)

The third album is being crafted at The Courettes´own StarrSound Studios and in due to be released in October.

One of the most hard working bands on the scene, The Courettes have been busy delivering their full-speed energetic performances (more than 250 concerts!) in 15 countries around Europe and Brazil. Still, they have had the time to release two new garage rock killers by the end of 2019: The spectoresque single "Christmas (I Can Hardly Wait)", a girlie pop Christmas anthem filled with fuzzed out guitars and trashy jingle bells (released by Danish label Crunchy Frog) and a new 7" with 4 killer tracks (recorded / mixed) by Liam Watson at legendary ToeRag Studios in London (released by Portuguese Groovie Records).

Since the blasting debut album "Here are the Courettes" (Sounds of Subterrania, Germany, 2015), the explosive single "Boom! Dynamite!" (Bachelor Records, Austria, 2016), the thrilling single "Hoodoo Hop", a split with Powersolo (Sounds of Subterrania, Germany, 2017), a shaking live album "Alive from Tambourine Studios" (Chaputa Records, Portugal, 2017), and the brilliant second album, "We Are The Courettes" (Sounds of Subterrania, Germany, 2018), The Courettes have been critically acclaimed by the main European rock magazines: