The Delines Tickets
St Barnabas Church, Oxford.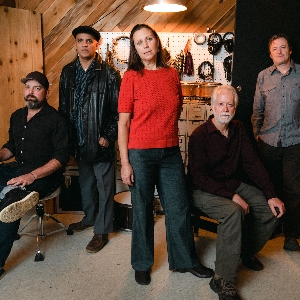 More information about The Delines tickets
"Wonderfully immersive stuff... The Sea Drift has been honed to a fine shine musically and lyrically, with guitarist and feature-film-adapted novelist Willy Vlautin sketching the ultra-vivid character studies that Amy Boone inhabits." MOJO – 4 stars ****
"Here are 11 songs of a romantic, Southern country-soul bent, as economical and well-judged in arrangements and execution as they are in their lyrical content, which is both painfully poignant and utterly unsentimental. The Delines' way with romance is all their own, and for 41 sweet, orchestral minutes, time is suspended as we watch with our ears." Uncut – 8/10
"The hypnotic vocals of Amy Boone can stop the world turning... Very quickly the listener becomes attached to these charcters, helplessly drawn into their lives, all due to the exceptionally strong musicianship, Amy's delivery, and lyrical storytelling." Rock'n'Reel – 4 stars ****
Following on three years after their number 1 album (UK official Americana charts) 'The Imperial', the band will released' The Sea Drift' on February 11th 2022 on Décor Records. "The idea for the album began with my and Amy's mutual love of Tony Joe White," says Delines guitarist and songwriter Willy Vlautin. "We used to have conversations about his records and she'd always joke, 'Just write me Rainy Night in Georgia.' Jesus, what a tall order, but I guess in my own way I started trying."
"Growing up," adds singer Amy Boone, "two of my favorite songs on the radio were Brook Benton's version of Rainy Night in Georgia and Bobbie Gentry's Ode to Billie Joe. I remember reading where Tony Joe said he was so influenced by the realness of Ode to Billie Joe that he set out to write a song that was real to him and that song turned out to be Rainy Night in Georgia. So when Willy said he wanted to use White's song as an inspiration for the Delines' next record, I was instantly hooked on the idea."
With the seeds of 'The Sea Drift' planted, Vlautin and Boone began talking about the ideal setting for the songs – Texas, where Amy lived for years, and also the Gulf Coast, which they both love. Vlautin started writing songs set in that area and soon the band decided to create a whole record in that world, a record drifting up and down the Gulf Coast.
"I think the songs on 'The Sea Drift' have the kind of 'realness' that Tony Joe was after, romantic realism," says Amy. "When Willy would talk to me about his new batch of songs set on the Gulf Coast I remember thinking, is he talking about The Delines' next record or is he writing a screenplay?"
Using longtime producer John Morgan Askew and working for the first time in his new studio, Bocce, the band leaned on the rhythm section of bass player, Freddy Trujillo and drummer Sean Oldham to get the sound right. Vlautin says, "With Freddy you have one of the best soul bass players around and Sean's a seriously cool jazz drummer and a great arranger.''