The Floyd Effect
The Citadel, St Helens.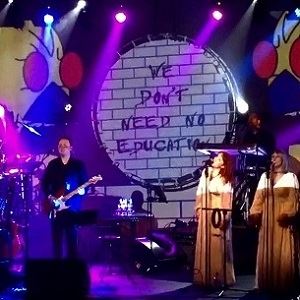 The music of Pink Floyd as it was always meant to be heard. Citadel favourites The Floyd Effect return.
Under 18s must be accompanied by an adult. We cannot issue refunds to under 18s who are not accompanied by an adult.
More information about The Floyd Effect tickets
The music of Pink Floyd as it was always meant to be heard
Having toured since 2007, The Floyd Effect is renowned for the remarkable accuracy with which it performs the iconic music of Pink Floyd. All of the band's members are top quality musicians with pedigrees that stretch across all manner of musical genres, and they faithfully recreate the music and intensity of a Pink Floyd concert without recourse to backing tracks, racks of computers, or other technological wizardry. Every note that you hear is played and sung by the band, making each concert a genuine 'live' experience; powerful, immersive and emotional. And, of course, the music is supported by a dramatic light show that incorporates the iconic circular screen, two sets of projections, smoke and lasers.
Sit back and enjoy the Floyd Effect as the band presents a musical journey through the Pink Floyd canon including a complete performance of Dark Side Of The Moon – unbroken, as it was always meant to be heard.
Unless you were there the first time around, the music of Pink Floyd was never as real as this.
As a show this was as good as it gets. The timing, delivery and recreation of the Floyd sound was faultless, and many tracks took me to places I had forgotten existed as the sound washed over me.
Unbelievable! I heard The Floyd Effect for the first time last night. To say I was blown away would be an understatement. Terrific music, brilliantly performed reducing me to tears. I did not ever expect to hear this wonderful music performed live in this way. Thank you for a truly fabulous evening.
I had the good fortune to see the original Pink Floyd twice. The Floyd Effect are as good as the original line up and, with the intimacy of the venue, it's like being in the front row. They were stupendous. I would urge any Floyd fan to make the effort to see them. You will be elated.
*Not suitable for under 12s
Website: www.thefloydeffect.com
Twitter: @thefloydeffect
Facebook: facebook.com/floydeffect
Facebook Fan Page: facebook.com/FloydEffectFans
Twitter Fan Feed: @FloydEffectFans
Direct link to promo reel: https://www.youtube.com/watch?v=kZ_zBQpclMw
Under 18's must be accompanied by an adult and seated on the balcony upstairs.