The Fog Joggers Tickets
The Fiddler, London.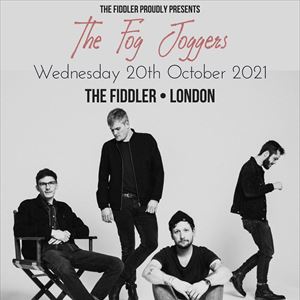 The Fiddler

229 Kilburn High Rd.

London

NW6 7JG

Nearest tube: Kilburn Station
Bus': 16, 32, 189, 316, 332, 632
info@thefiddlerlive.com
Under 18s must be accompanied by an adult. We cannot issue refunds to under 18s who are not accompanied by an adult.
More information about The Fog Joggers tickets
"Hey, everything shines, so beautifully new".
The Fog Joggers have been around for a few years, but the new song doesn't sound dusty. Even after 10 years of band history and countless appearances in Germany, Austria, Switzerland and Italy, i.a. At the Orange Blossom, Appletree Garden Festival, at the WDR Rockpalast and in the opening act for Revolverheld, Alabama Shakes and the Manic Street Preachers, the band continues to delight the audience with their live performances. When singer and guitarist Jan Büttner goes out and expresses his moods, you can tell that he is there from the heart to the tip of his toe. His incredible vocal power, which can sound rough and melancholic, as well as clear and soft, determines the individual sound of the Fog Joggers. The quartet is completed by Stephan Selbach (bass), Christian Hermanns (keys) and newcomer Jonas Hipper (drums). While Stephan and Jan already started to try out the band's initial sound (back then with long hair) in bad-smelling basement rooms in 2007, Christian Hermanns was replaced in 2016, and Jonas Hipper, who started the previous one in 2018, found his place in the band Dominik van Bebber replaced the man on the drums. A few years ago the advertising industry also recognized the band's huge hit potential and showed that the music of the Fog Joggers can be combined quite well with a cool Bitburger. The catchy tune "Waiting in the Wings" from the first album "Let's Call It A Day" (2011) has been dancing through all Bitburger commercials on TV, Internet and radio for 7 years. In 2014 her second album "From Heart To Toe", like the first album, was released on the Berlin indie label "Welcome Home Records". In the meantime they have found a musical partner in the Berlin producer Clemens Matznick (Boy, Revolverheld, Johannes Oerding, Guano Apes) who knows how to catapult the band's existing sound to another level. The first songs are already in the box and are waiting for their timely release. (Single: The End, released 02.08.2019) In addition to studio and rehearsal room stays, it is time for the band to get fresh air and sniff the air on stage. The first stop will be the Gamescom City Festival in Cologne. With i.a. Tom Odell, Blessed, The Highest Railway, and much more