The Great Escape Festival
Various Brighton Venues, Brighton.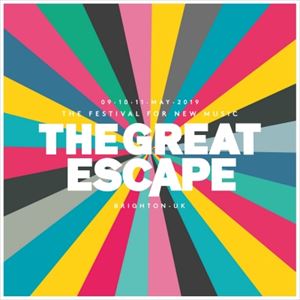 This event is for over 18s only - No refunds will be issued for under 18s.
More information about The Great Escape Festival tickets
FOLK

AK PATTERSON | AMY MAY ELLIS | CALLUM PITT | GENTLY TENDER | GWENIFER RAYMOND | LISA O'NEILL | MAISIE PETERS

Folk fans will be treated to River Lea's newly signed Lisa O'Neill's with her raw Irish ballads, Brighton's homegrown singer songwriter Maisie Peter's narrative songs, plus many more folk-led artists.



GRIME / RAP / HIP-HOP

AJ TRACEY | CHILDREN OF ZEUS | GUCCIHIGHWATERS | KIAN | KOJAQUE | MURKAGE DAVE | MYKKI BLANCO | PONGO | TRIPLE ONE | WINSTON SURFSHIRT (SOLO)

Breakthrough grime, rap and hip-hop acts added to The Great Escape line-up include AJ Tracey who is due to drop his debut album after gaining over 34 million streams, stand-out performance artist / rapper Mykki Blanco, plus many more...


R&B / SOUL

BIIG PIIG | BROEN | CELESTE | FIEH | GREENTEA PENG | JOY CROOKES | SHADED

The Great Escape is excited to unveil R&B and soul artists from across the territories such as hotly tipped Greentea Peng with her experimental lo-fi feels, Irish neo-soul singer Biig Piig pulling in the romance, plus many more.



POP / DANCE

AMANDA TENFJORD | APRE | ARCHIE FAULKS | DRAX PROJECT | IRIS | LIZA OWEN | MALIK DJOUDI | MONTY TAFF | RAUL VIGNAL | SUPERLOVE | T. THOMASON | THE MAUSKOVIC DANCE BAND

Pop and dance enthusiasts can look forward to brand new music from the likes of the irresistibly, charming New Zealand four-piece Drax Project, The Mauskovic Dance Band which will bring you the Afro-Caribbean meets space-disco you've been craving, plus many more.



ALT / INDIE

ALFIE TEMPLEMAN | ALTOPALO | BESS ATWELL | BLACKOUT PROBLEMS | CHAI | COUNTY LINE RUNNER | EASY LIFE | ELDER ISLAND | FINN ANDREWS | GIANT ROCKS | GIUNGLA | GIRL IN RED | HAGGARD CAT | HAND HABITS | HORROR MY FRIEND | ITALIA 90 | JACK PERRETT | JUNGLE GIANTS | LEWSBERG | MALIHINI | NICE BISCUIT | RICH AUCOIN | SOAKED OATS | SPORTS TEAM | SULLII | THE BETHS | THE NUDE PARTY | WASUREMONO | WEIRD MILK | WESTERMAN | WHISPERING SONS | ZOONI

The Great Escape will allow you to discover your next indie anthems by announcing artists such as the ennui indie, energy-laced band Sport Team, softly thematic, bedroom-pop heroine girl in red, Rotterdam's throwback rock band Lewsberg, plus many more.




PUNK / ROCK / METAL

ANY OTHER | BE FOREST. | BIG JOANIE | BITCH FALCON | BRUTUS | BUZZARD BUZZARD BUZZARD | CAN'T SWIM | COCAINE PISS | HAZE | HOT MILK | JUST MUSTARD | KINGSWOOD | LIFE | MOTHERHOOD | PAGAN | PEARL CHARLES | PETROL GIRLS | PRIESTS | SIR BABYGIRL | STONEFIELD | TALOS | THE SNUTS | VIAGRA BOYS | VULPYNES

The Great Escape hits it hard by introducing some heavies to the line-up including Swedish self-loathing post-punk band Viagra Boys, DIY inspired trio and riot grrrl activists Big Joanie, Australian disco-powered blackened punk'n'roll Pagan, plus many more.




JAZZ

FARAJ SULEIMAN | HEAVY BEAT BRASS BAND | KIZZY CRAWFORD | TAWIAH

The freshest new names in the jazz realms are introduced to the line-up with the likes of Palestinian composer and pianist Faraj Suleiman, Bajan-Welsh singer songwriter Kizzy Crawford, plus more.



OTHER

ALEXANDRA STRÉLISKI | MALPHINO | YVES TUMOR

Elsewhere, the genre-crossover artists announced include newly found, unconventional, neo-classical pianist Alexandra Stréliski, hypnotic, experimental electronic music make Yves Tumor and the mysterious band Malphino, filled with tropical sounds.