THE GUNTON FESTIVAL OF FOOD + MUSIC 2018
The Gunton Arms, Thorpe Market.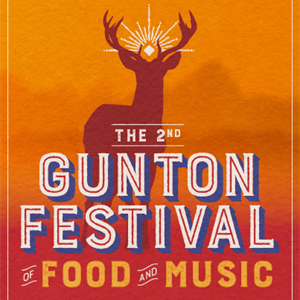 More information about THE GUNTON FESTIVAL OF FOOD + MUSIC 2018 tickets
"Certainly it's worth waiting for – the Gunton Arms is there to feed you. It's the kind of place where, having eaten, you crave a lie-down…… I want to go back to the Gunton Arms. I want to go back soon" – Jay Rayner , The Guardian
We are delighted to announce the second Gunton Festival of Food & Music will be held on Saturday 4 August. Following the success of the 2017 festival which sold out three months in advance the capacity has been doubled from 650 to 1300. The North Norfolk Festival is a glorious celebration of The Gunton Arms holy trinity – Food, music and drink!
The critically acclaimed Gunton restaurant will be open throughout the festival plus an outdoor BBQ serving delicious jerk chicken, spiced lamb pittas, vegetarian dishes and of course the classic Gunton venison burgers and hotdogs. We're super excited to launch an expanded food area in 2018 featuring vendors hand picked by head chef Stuart Tattersall.
We have programmed another amazing line up of bands and DJs to play in 2018 which will be announced in the next few weeks. Last year Kitty, Daisy & Lewis headlined with a supporting cast of local bands & DJs.
Described by The Independent as a "Rock & Roll Hunting Lodge" The Gunton Arms is situated in the beautiful thousand acre deer park which surrounds Gunton Hall near Cromer in North Norfolk. Stuart Tattersall (Former Head Chef at Mark Hix) cooks from local ingredients including venison from the deer park.
Book a tables and rooms at http://www.guntonarms.co.uk
http://www.theguntonarms.co.uk/festival
http://www.facebook.com/guntonarmsfestival