The Handsome Family + Daniel Knox Tickets
St Luke's Church, Brighton, BN2 9ZB.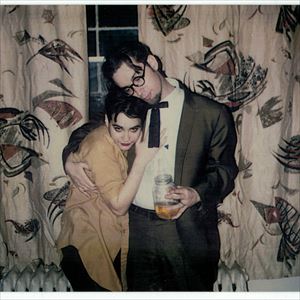 Please be assured all purchased tickets remain valid for the new date and all other details remain the same. Please keep an eye on Melting Vinyl's Facebook Event page for more info and updates https://www.facebook.com/events/722045751632228/
Here is a personal message from The Handsome Family: 'Now more than ever, we look forward to singing with you again' - Brett & Rennie Sparks, New Mexico.
Melting Vinyl thanks you for your continued support and patience and can't wait to see you all soon.
Under 16s must be accompanied by an adult. We cannot issue refunds to under 16s who are not accompanied by an adult.
More information about The Handsome Family + Daniel Knox tickets
'It is with deep regret we have to announce that The Handsome Family April/May 2020 European tour has been postponed due to Coronavirus/ Covid 19. The April/May 2020 shows are currently being rescheduled for 2021 and will be announced soon.

For more details and updates please visit our Facebook Event page
https://www.facebook.com/events/722045751632228/permalink/834937393676396/

The re-issues of The Handsome Family's first two records will go ahead as planned on the 20th March, with 'Odessa' & 'Milk And Scissors' being made available on vinyl for the first time. Please consider supporting the band by purchasing copies via smarturl.it/thehandsomefamily or by picking up signed albums, boxsets, books, t-shirts or artwork directly from Brett & Rennie at handsomefamily.com.'

With a baritone as dynamic as it is indestructible, Chicago-based Daniel Knox narrates compositions with a perverse and sometimes comical wit, guiding the listener through sprawling worlds that exist just out of frame.
His work has inspired a diverse cast of collaborators that lie inside and outside his realm of alternative Americana, such as Jarvis Cocker, Thor Harris (Swans, Freakwater), and The Handsome Family with recent performances that include the likes of Rufus Wainwright, Andrew Bird, and Swans.
One year on from his critically acclaimed grand, holistic album Chasescene - an album which confirmed his posItion as both a 'rare talent' (Loud and Quiet) and as a 'master storyteller' (The Observer) - Daniel Knox has today announced a new mini-album 'I Had A Wonderful Time'. The mini-album will be released on 13 December via Knox's own label H.P Johnson
Presents alongside the reissue of his 2015 self-titled album - an incredible work of world-building and song-craft, under- appreciated at the time but now reissued on blue vinyl.