THE HITMAN BLUES BAND Tickets
Eel Pie Club, Twickenham.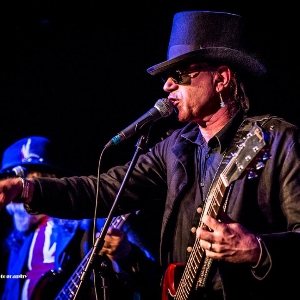 More information about THE HITMAN BLUES BAND tickets
A sharp suit and a thousand songs. That's what earned New York City native Russell Alexander his moniker, early in the vast musical career that made him the master guitarist, singer, and songwriter for the Hitman Blues Band that he is today. Playing original critically acclaimed modern/alt blues with top musicians, including brass section, It combines rock, funk, jazz, and – of course – blues, to create blues of the 21st century.

Frontman and band leader Russell 'Hitman' Alexander has New York City in his veins, blues in his heart, and the music of many worlds in his gifted hands. The man in the shades, top hat and sharp suit on stage with that tight band in that dark club is playing real blues, informed by 50 years of mastery of New York City's thousand styles while imitating no one.

"Led by New York guitarist Russell 'Hitman' Alexander, Hitman has a striking, charismatic personality and knows how to entertain and put on a show with superb danceable blues and great covers. Born to play and with real personality, as he tells stories, jokes with the crowd, proudly features his excellent band and plays a spiky guitar with great panache and soul. What a find you may think and you'd be right" – Blues Matters magazine.