The Icicle Works
The Devils Arse Cave, Castleton.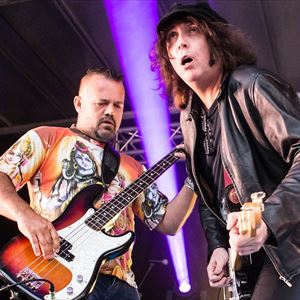 14s - 17s must be accompanied by an adult. No refunds will be given for incorrectly booked tickets.
More information about The Icicle Works tickets
"We'll be as we are when all the fools who doubt us fade away..."
The Icicle Works 'Hollow Horse' 1984
Prophetic lyrics, when you consider the fact that almost 4 decades since their formation, The Icicle Works are still on the
road, and showing no signs of slowing.
Named after the 1960 short story "The Day The Icicle Works Closed" by science fiction author Frederik Pohl, The Icicle
Works joined Liverpool's early 1980s 'neo-psychedelia' wave and quickly became part of the cult-like renaissance
movement that included Echo And The Bunnymen, The Teardrop Explodes, Wah!, Heat, and OMD.
Almost immediately, The Icicle Works scored a string of highly rated hit albums and singles all over the world. They were
one of the few bands of their genre who made an impact in the USA, having been invited to perform on TV shows such as
American Bandstand.
There has been a resurgence in their global popularity over the last year, with their 1984 hit "Birds Fly (Whisper To A
Scream)", featuring in the Netflix smash hit series "Stranger Things".

The Icicle Works show's are always a powerful experience for anyone who genuinely loves great music, and greater
musicianship.