THE IDOL DEAD / DEAD EXTRAS / BETALOOPER Tickets
Lending Room, Leeds.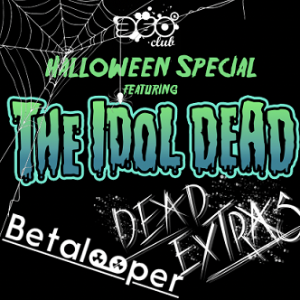 Punk special featuring 3 very exciting bands!
This event is for 18 and over - No refunds will be issued for under 18s.
More information about THE IDOL DEAD / DEAD EXTRAS / BETALOOPER tickets
THE IDOL DEAD
'The Idol Dead have excelled themselves in every way and produced an album they can be proud of.'- UberRock
'They are the defibrillator that needs to be pressed hard against the chest of the dead horse that the music biz keeps flogging.' - Reservoir Droogs
'They channel the energy of their songs with a confidence and conviction of a stadium-sized outfit.' – RPMOnline
"Excellent" - [8/10] Powerplay Magazine
Always outnumbered but never outgunned, The Idol Dead deliver fearless and memorable punk rock directly to the prefrontal cortex of the UK independent music scene.
DEAD EXTRAS
"Unearthing Dead Extras is to unearth a gem; you're unlikely to find another band who does what they do to the same degree of skill- I wouldn't bother trying." - Lippy Magazine
"Their reputation as one of the best Leeds has to offer is justly earned" – Roadie Live
"High energy – Commanding Presence - Sheer Intensity" – When the Horn Blows
"The energy coming off the stage is something I've only felt a few times in my gig-going life. Dead Extras played like they were playing a huge venue." - Local Sound Focus
The howling sound of the underground, a chaotic cult of punk-infused metal mayhem, full of howling choirs of screams and shouts. Emerging from hibernation for the first time since last year, Dead Extras are bringing their chaotic energy back to the live scene."
BETALOOPER
https://betalooper.bandcamp.com
A songwriter and musician from Leeds, UK. His music is a fusion of alternative rock, electronic and folk influences. In 2019, he released "Piggy's Farm" - an angry and politically charged EP that focussed on a range of issues from binge drinking to corporate greed. Emerging from lockdown with a more refined industrial sound, his live performances exhibit powerful vocals, grungy guitar hooks and catchy drum loops.