The Lost Words: Spell Songs
Barbican Hall, London.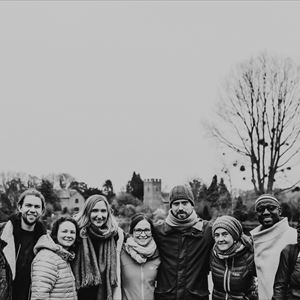 Under 14s must be accompanied by an adult. We cannot issue refunds to under 14s who are not accompanied by an adult.
More information about The Lost Words: Spell Songs tickets
'Spell Songs is a work of vision and brilliance' (***** fRoots)
'beguiling' (**** Sunday Times)
'a delightful homage to nature' (**** Times)
'a brave and magical creation' (Observer)
'complex and beautiful and an absolute joy from start to finish' (***** RnR)

Spell Songs is a musical companion piece to The Lost Words by author Robert Macfarlane and artist Jackie Morris; a celebrated ?spell book' rich with poetic rhythms and imagined birdsong that naturally invited a musical response.

Spell Songs gathers together eight remarkable musicians whose music engages deeply with landscape and nature, to respond to the creatures, art and language of The Lost Words:

Karine Polwart: a multi-award-winning songwriter and musician, a theatre maker, storyteller, essayist, and published writer, who's script for her show Wind Resistance was picked by Robert Macfarlane for Guardian's 'Best Books of 2017'

Julie Fowlis: often singing in the Gaelic Tradition, Julie is known for her crystalline and intoxicating voice. Winner of BBC Radio 2 Folk Singer of the Year 2018

Seckou Keita: an exceptional and charismatic musician. Arguably the most influential and inspiring Kora player (22 stringed West African harp) of his generation

Kris Drever: one of Scotland's finest and most prolific songwriters, a member of award-winning folk trio Lau, and BBC Radio 2 Folk Awards Folk Singer of the Year 2017

Kerry Andrew: an astonishingly perceptive musician, composer, songwriter, multi-instrumentalist and author

Rachel Newton: a singer and harpist with a reputation for 'haunting and compelling' (Guardian) performances and was awarded BBC Radio 2 Folk Musician of the Year in 2017

Beth Porter: a well-known cellist on the UK folk and acoustic scene and a one half of The Book Shop Band, who write songs inspired by books that are frequently performed at book shop gigs

Jim Molyneux: a prodigious talent in many instruments, with an ear for a variety of genres from folk through to jazz and hip hop

Spell Songs allowed these acclaimed and diverse musicians to weave together elements of British folk music, Senegalese folk traditions, and experimental and classical music to create an inspiring new body of work. In 2019 Spell Songs has enjoyed standing ovations at sell-out performances at major venues around the UK, including London's Southbank Centre and the main stage of Hay Festival:

'? one of the most sublime evenings you will ever enjoy. The magic of these superstars onstage - the art, the music, the sheer, ravishing beauty of the language... one of the greatest concerts we've ever had at Hay.' (Peter Florence, Festival Director, Hay International Literary Festival)

The Spell Songs performance captures the essence of The Lost Words. Spoken voice, whispers, accents, dialects, native languages, proverbs, sayings, birdsong, river chatter and insect hum all increase the intimacy of the musical world conjured by the songs. Inspired by the words and art of the original book, each musician brings new imaginings, embellishments and diversions which are rooted in personal experience, a deep respect for the natural world, protest at the loss of nature and language or appreciation for wildness and beauty.

The 8 incredible artists who created Spell Songs will be joined on stage by Robert Macfarlane himself and the acclaimed and award-winning artist Jackie Morris, one of the authors of the original Lost Words book, will be painting live on stage during the performance, conjuring magic with ink and brush!