The Low Anthem
The Glee Club, Birmingham.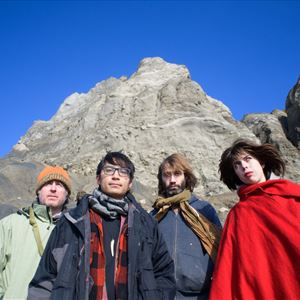 14+ only. 14s to 16s must be accompanied by an adult. No refunds will be given for incorrectly booked tickets.
More information about The Low Anthem tickets
Ben Knox Miller and Jeff Prystowsky formed The Low Anthem in 2006, after meeting at their college radio station. They pursued an authentic but timeless sound, and after the huge success of their 2007 debut album, What The Crow Brings, the band found themselves signed to Nonesuch and Bella Union for their even more successful follow-up, Oh My God, Charlie Darwin. They toured the world and were reluctantly lumped in with the so-called "folk revival". However, night-after-night of performing their early material was not ultimately where they wanted to land. "The moment was losing its mystery. We were scared of becoming robots," the band said after six years of reflection.
They returned to their hometown of Providence, Rhode Island back in 2012 and instead poured their energy into their local community by restoring a vaudeville-era theatre and building their own recording studio within. The band were inescapably enamored with music itself and holed down here for years experimenting and learning to record and produce what would become Eyeland.

Having built a recording studio and recorded a deeply experimental, stylistic u-turn of a record in Eyeland, they released it in 2016, but their plans were disrupted due to a catastrophic van crash in their first week of touring. Not only did they have to cancel the tour, but, combined with some record company troubles, it led to the album all but disappearing. Eyeland was their first in several years and was also a direct response to a world in which they had found themselves but didn't really want to be. After the crash, their gear and instruments broken, they found a moment in which they could discover what a world they would want to be in might look like.

The Low Anthem are now into a groove of their own, under their own terms. They are settled and have found themselves again both in terms of a sense of place as well as musically. This feeling of comfort, confidence and newfound identity shines through on The Salt Doll Went To Measure The Depth Of The Sea, an album that was triggered when Knox Miller was reading John Cage's biography Where The Heart Beats, by Kay Larsen. He soon became transfixed by the salt doll fable he came across. The salt doll fable basically tells the story of a doll that wants to know itself, and what it's made of. A teacher tells it, "salt comes from the ocean," so it goes to the sea. When the doll puts its toe in, it knows something, but loses its toe. Then it puts its foot in, knows even more but loses its foot...and so on, until it's completely dissolved, never to return to the shore.

It finds the Low Anthem of 2017 a vastly different band from the one that emerged 10 years ago with their debut. One that has experienced more ups and downs that many would manage in an entire career but also one that now feels settled in their skin and only interested in venturing toward the horizon instead of re-treading old ground.