The Music of Northern Soul Live
Old School House Venue, Barnsley.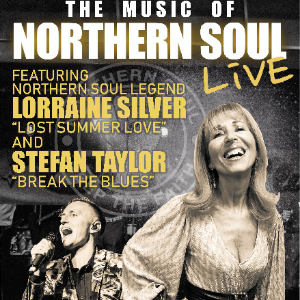 More information about The Music of Northern Soul Live tickets
STEFAN TAYLOR and THE SIGNATURES are the UK's leading Northern Soul Band. They have now added as headline artist for their 2021 tour original Northern Soul Legend LORRAINE SILVER. The band put their own expression to many classic Northern Soul numbers creating a true balance between authentic and modern in sound. Step back to the sounds of the Twisted Wheel, Blackpool Mecca, Golden Torch and Wigan Casino. The Signatures give a full set of passion and energy guaranteeing to get the audience "Out on the floor".
THE SIGNATURES have been backing group to numerous American Northern Soul Legends such as Tommy Hunt, Dean Parrish, Brenda Holloway, Tobi Legend, Sidney Barnes , Pat Lewis, Nolan Porter & Bobby Brooks Wilson the son of the late great Jackie Wilson.
Since 2016 STEFAN TAYLOR has been appearing as regular frontman with THE SIGNATURES performing classic tracks such as 'The Night' 'Do I Love You' 'Higher & Higher' and all the other firm favourites. He has an abundance of personality & sings with passion direct from the soul and has an amazing vocal range.
Northern soul legend LORRAINE SILVER recorded "Lost Summer Love" for PYE Records when she was 13 years old in 1965
The track went on to become an iconic track at the legendary WIGAN CASINO in the 70's and due to high public demand the single was re-released on Casino Classics label and sold in excess of 30,000 copies.
In her set backed by the fabulous Signatures she performs her iconic track alongside versions of some Northern Soul classics including 'LANDSLIDE ' & 'LONG AFTER TONIGHT IS ALL OVER '
Now 54 years later she has been in the recording studios with legendary record producer IAN LEVINE to cut a brand new single 'STANDING AT THE INTERSECTION'/ 'BEST TIME OF MY LIFE' These have been written especially for her after he saw her perform at the recent 'Northern Soul Survivors Weekend' at Butlin's Skegness which had 8000 devoted Northern Soul fans in attendance.