THE MYTHICAL QUADRUPLE - Purple Merlin & The Firm!
Gullivers, Manchester.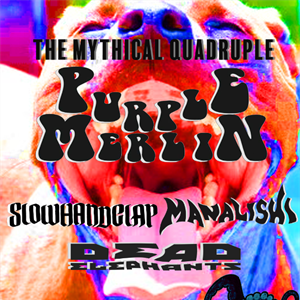 BUZZIN to announce our inaugural MERLIN PROMOTIONS PRESENTS headline gig with a proper posse of ABSOLUTE POWER...

We're taking over MANCHESTER'S NQ THURSDAY 17TH MAY with this MYTHICAL QUADRUPLE!
Purple Merlin
SlowHandClap
Manalishi
Dead Elephants
After you buy, click
to easily split ticket money with friends.
More information about THE MYTHICAL QUADRUPLE - Purple Merlin & The Firm! tickets
Purple Merlin -
"Purple Merlin are a bit bonkers, one of them is wearing a hi-vis, one of them keeps shouting what sounds like United between songs in a fit of tourettes, they seem to take turns in attacking the drummer and his kit and the keyboard player somehow manages to coax sounds out of a keyboard that's precariously placed on a table on stage.
Despite this though they create a riotous racket but one that's structured and knowing in the way Cabbage had seemingly got that market cornered. They're a very different proposition mind you, but the way in which cohesion manages to battle its way out of what could be a complete mess is very similar indeed." - Even The Stars
https://www.facebook.com/purplemerlin/
SlowHandClap -
Taking influence from 90s giants such as Sonic Youth, Fugazi, Nirvana and Dinosaur Jr Slowhandclap are kicking up a storm all of their own around the North West. With the release of massive new single 'Apathy', plus support from BBC Introducing and Radio 6, and more releases and shows announced in the not-so-distant future, expect the buzz to spread, quickly.

https://open.spotify.com/track/5KT75fowxGUlWV7zVC53Ue?si=f6WbsNgNSZaaHb2-ia4rhg
https://www.facebook.com/slowhandclap/
Manalishi -
"Manalishi are a band with attitude in abundance; you can hear it in their music and see it in their shows. Heavy drumming and over the top guitar riffs create the spine to what is a truly powerful sound that you'll feel shake the room when played with the right attention it requires." - The Pentatonic Magazine
https://www.facebook.com/wearemanalishi/
Dead Elephants -
"Manchester based trio playing stoner infused noise rock with hard hitting grooves. Sound consists of hard hitting drums and fuzz on just about everything else. Get ready to dance, jive turkeys."
https://www.facebook.com/deadelephants.band/