The Orielles Tickets
Newcastle University Students Union, Newcastle.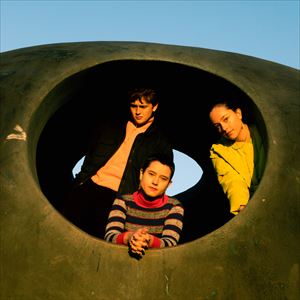 More information about The Orielles tickets
Wandering Oak + Interior welcome:

The Orielles

Defiant in the face of existential dread, The Orielles were always going to approach their second album with nothing but stellar levels of intent. Disco Volador sees the 4-piece push their sonic horizon to its outer limits as astral travellers, hitching a ride on the melodic skyway to evade the space-time continuum through a sharp collection of progressive strato-pop symphonies.

"Its literal interpretation from Spanish means flying disc but everyone experiences things differently. Disco Volador could be a frisbee, a UFO, an alien nightclub or how you feel when you fly; what happens to your body physically or that euphoric buzz from a great party," suggests bassist and singer, Esme. "But it is an album of escape; if I went to space, I might not come back."
Voyaging through cinematic samba, 70s disco, deep funk boogies, danceable grooves and even tripping on 90s acid house, Disco Volador is set to propel The Orielles spinning into a higher zero-gravity orbit. Disco Volador's library catalogue vibes stem from a band lapping up and widening their pool of musical discovery whether nodding to Italian film score maestros Sandro Brugnolini and Piero Umiliani, or the Middle Eastern tones of Khruangbin and Altin Gün. "All the influences we had when writing this record were present when we recorded it, so we completely understood what we wanted this album to feel like and could bring that to fruition," tells drummer, Sid. "This is the sound of where we are at, right now."
Whilst the future of the world and its current cosmic wasteland might be up in the air, The Orielles' new album has its feet beating out a much-needed four to the dancefloor. Welcome to Disco Volador; time really does fly when you're having this much fun.
"The Halifax band feel like the closest thing we have to a contemporary Stereolab: as sharp as they are spacey, at home with psychedelic wooze and seductively chugging guitar pop." - the Guardian