The Original Wailers feat Al Anderson Tickets
Boisdale Of Canary Wharf, London.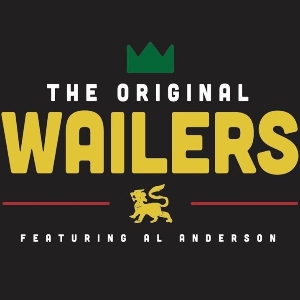 More information about The Original Wailers feat Al Anderson tickets


Forty years on, the legacy of reggae musician Bob Marley is still alive. Al Anderson of the original Bob Marley & The Wailers lineup will be bringing all the top hits from the Legend album!

Bob Marley left his body behind some 40 years ago, but his music is still with us. His spirit comforting us and lifting our spirits. Join THE ORIGINAL WAILERS as they carry on Marley's message of love and unity and perform hits from LEGEND album– an experience which will no doubt have the audience singing along, clapping hands and smiles beaming.

Reggae Royalty, Jamaica's THE ORIGINAL WAILERS featuring Al Anderson return to perform the iconic BOB MARLEY & THE WAILERS album LEGEND, plus a special encore of Greatest Hits. A unique experience of the biggest Reggae act of all time is sure to have you swaying and singing along to songs that have captured fans from all generations.

BOB MARLEY & THE WAILERS have sold more than 250 million albums worldwide. LEGEND is the best-selling reggae album of all time and has been certified 13 x Platinum in U. The album is jam-packed with classic after classic – Is This Love, Could You Be Loved, Three Little Birds, One Love, No Woman No Cry, Get Up, Stand Up, Buffalo Soldier, I Shot The Sheriff, Jamming, Get Up Stand Up, Redemption Song to name a few. This will be an unforgettable experience as THE ORIGINAL WAILERS perform the LEGEND album.

In 1974 when Bob Marley went solo, on the brink of international stardom, he surprised the music community by choosing as American born lead guitarist, Al Anderson. It was Anderson's stunning lead work on such classics as No Woman, No Cry, & Three O'clock Road Block, that first alerted rock fans to the Wailer's music.

Andersons' musical achievements with Bob Marley & The Wailers include the platinum award-winning albums, 'Live at the Lyceum', 'Babylon by Bus' and ten times platinum album 'Legend'.

The Orignal Wailers received their own Grammy nomination in 2013 for their album 'Miracle' making it Andersons' second Grammy Nomination. Al Anderson is the sole member of the Bob Marley & The Wailers mid - 1970's lineup in the Original Wailers.

The Original Wailers also include Chet Samuel (Lead Vocals / Guitar), Omar Lopez (Bass Guitar), Paapa Nyarkoh (Drums), and Adrian AK Cisneros (Keyboards and Organ) who continue the legacy of Bob Marley & The Wailers' music.
*Please note your dining time is 7.00pm (Excluding lounge tickets) - if you wish to change this to an earlier or later dining time please contact our reception team after you have purchased your tickets on 0207 715 5818 or email reception@boisdale-cw.co.uk attaching your ticket.
ABOUT THE VENUE:
ABOUT THE VENUE:

Jools Holland, Boisdale's Patron of Music presents the best in jazz, blues and soul.
About the venue: https://youtu.be/SJhROJnoJLQ

Boisdale of Canary Wharf is a two-floor venue overlooking Cabot Square which comprises a restaurant, four private dining rooms, Oyster Bar & Grill and Cigar Terrace, the world's greatest Whisky Bar, and the best live music in the capital.

"London's number one jazz venue" Tatler
"Best Whisky Bar in the World" Whisky Magazine
"A carnivore's dream" Evening Standard
"Aged steaks are deemed incredible" Square Meal
"The world's most individualistic style bar & restaurant" Hot Tickets

FOLLOW US:

Facebook: https://www.facebook.com/BoisdaleRestaurants
Twitter: https://twitter.com/boisdaleCW
Instagram: https://www.instagram.com/boisdale_uk/