The Pogue Traders + Dizzy Lizzy Tickets
Concorde 2, Brighton.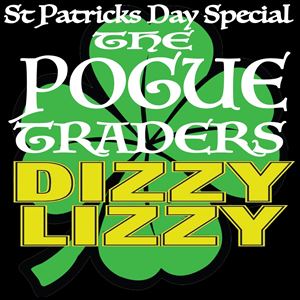 More information about The Pogue Traders + Dizzy Lizzy tickets
Black Rabbit Productions presents
St Patricks Day Special Featuring;
The Pogue Traders + Dizzy Lizzy


Formed back in 2007, The Pogue Traders have become established as the UK's leading Pogues tribute band. With a comprehensive set of Pogues numbers that are very faithful to the studio arrangements, The Pogue Traders play to sell-out major-venue audiences in London, Glasgow, Birmingham, and Nottingham, and to crowded pubs all over the country, leaving behind thousands of satisfied (and hung-over) gig-goers.
"The Best Pogues tribute band I've ever seen" – Andrew Ranken
'I'll come straight to the point: The Pogue Traders are absolutely fantastic. Seriously, if you ever see these guys and leave without an ear-to-ear grin spread across your chops and a song in your heart, stop and check your pulse – you may very well be dead.' – Neil Skinner – The Watford Observer


Dizzy Lizzy are a fantastic live tribute act, dedicated to one of Rock's all-time legends 'Phil Lynott' & THIN LIZZY. Established in 1994, their sound & set-list faithfully recreate that trademark Lizzy sound.

Philomena Lynott stated that Dizzy Lizzy are 'the closest to playing my sons music' A this sentiment has ecohed throughout the years. Dizzy Lizzy do indeed have an amazing sound and resemblance to the classic 70s & 80s rock band. They will take you back in time to relive that magical musical era with a superb blend of classic foot stomping rock anthems and emotive rock ballads (inc The Boys Are Back In Town, Whiskey In the Jar, Emerald, Black Rose, Rosalie, Sarah, Still In Love With You). Many have acknowledged Philomena's statement to be true, Dizzy Lizzy are the closest and most convincing tribute to the real thing.
They have also performed and toured with the original Thin Lizzy guitarist Eric Bell. Eric Bell's reaction on first seeing the band…'I could only watch three numbers owing to the emotions. The resemblance to Phil and the mannerisms and playing, it was spooky – it made the hairs stand up on the back of my neck…' They can also be heard on the documentary CD 'I am just a cowboy'. Released in the year 2000.
Although based in the Midlands, Dizzy Lizzy tour extensively throughout the UK, perform in Europe & have performed as far afield as Los Angeles and Dubai.

Gene Simmons - (Kiss) ''Boy, you guys . . . Rock !''