The Poisonous Panto Murder Mystery
Colwick Hall, Nottingham.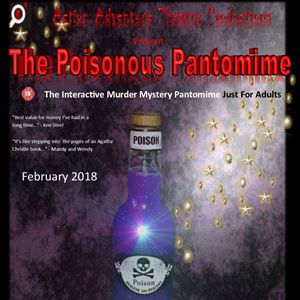 Sign up here for our early bird discounts and notifications. You will receive a discount code, see below for instructions on how to claim your discount:
You will be sent a discount code, this code will be redeemable up until the box office closes. All you have to do is Sign up here and wait for your discount to be automatically sent. Once you receive your discount code, you simply need to enter it in before purchasing your tickets and you will get a £5 discount on each ticket you purchase.
If you do not receive your discount code within 15 minutes of registration, please call our box office to order over the phone and our team will be happy to help: 0843 902 0768.
This event is for over 18s only - No refunds will be issued for under 18s.
More information about The Poisonous Panto Murder Mystery tickets
18+ The Interactive Murder Mystery Pantomime Just For Adults.
Why not kick start your new year with something different?

Join us as we embark on our next challenging adventure, our new and original show, The Poisonous Pantomime.

Upon arrival at your chosen venue, you will enter the world of Storyville; a small, sleepy town cursed to live in a perpetual pantomime. Our resident detective, Amanda P Ennis, is called to investigate when a spate of mysterious murders begin.

Join our detective as she tries to solve these perplexing poisonings; all the while, our suspects will insist on performing their own pantomime around her, can she resist the curse and solve the crime? You'll have to come along and find out.

"It's like stepping into the pages of an Agatha Christie novel..." Mandy and Wendy (Masquerade Ball)
"Best value for money I've had in a long time..." - Ken Steel (Masquerade Ball)

This is not a sit down show, you will have access to the bar the entire night as well as:
- A three course buffet,
- Original characters, new story lines and a lot of gunge.
- Puzzles to solve,
- More stories to discover,
- Clues to investigate,
- Scenes happening randomly around you,
- Realistic suspect behaviour (They can and will lie to you)
- Live staged murder scenes (You investigate the body)
- Hidden clues and power cards,
- Suspects to interrogate,
- A prize and certificate for the winning team; standard of prize is subject to ticket sales.
(last show it was a box of chocolates each and a bottle of champagne for the team to share)
- New, more interactive and immersive elements such as; the chance to save one of the victims.
And much, much more

You can get as involved as much or as little as you feel comfortable doing and still have a great night, the more you do get involved, the more you will get out of it.

Don't feel like solving a mystery?
Throughout the entire event, there is a full length pantomime you can enjoy.
Don't feel like questioning the suspects, but still want to guess the murderer?
There are clues for you to investigate.
Want to have your own character?
You're more than welcome to create your own character and play along.

So join as one of our shows, our tour dates will be between 19th and 28th February, although if demand is high we may extend them. We currently have Colwick Hall booked for the 27th and 28th February 2018