The Quo Experience
Exmouth Pavilion, Devon.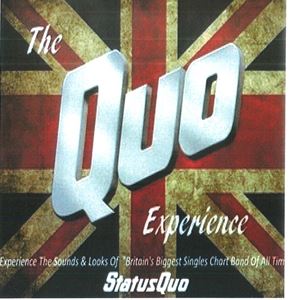 More information about The Quo Experience tickets
'The Quo Experience' is an East Anglian based band including David Wood as 'Francis Rossi' and Dave Crawte as 'Rick Parfitt'; both have spent years studying every detail of Rossi and Parfitt's looks, playing styles and stage performances to make sure they are both as close to the real thing on stage as is possible, without actually being the legendary rock duo themselves! The magic and chemistry that the ParfittRossi partnership brought to a Quo 'live' performance is now being continued within The Quo Experience.

However, The Quo Experience is not all about Rick and Francis; it also features Graham Partridge, who captures the magic of Status Quo's long-term keyboard player Andy Bown's playing and vocals perfectly; Ian 'Jaspa'Woodthorpe, an excellent Matt LetleyLeon Cave style drummer and Del Fletcher, a very talented bassist and performer.

With such an impressive line-up of seriously experienced musicians and passionate Quo fans, along with a stage show that includes the legendary Status Quo wall of white Marshalls and replica guitars, The Quo Experience is fully armed to take the act as far as is possibly achievable in the tribute band industry. The Quo Experience is, however, not just another Quo tribute band – it is an 'experience'; an ongoing chance to 'experience' the sounds and looks of "Britain's biggest singles chart band of all time" as we all remember it!