The Reytons
Studio2 Parr Street, Liverpool.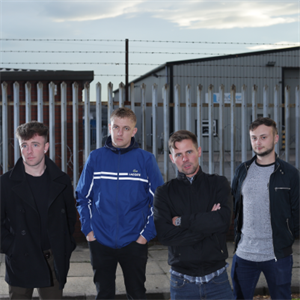 More information about The Reytons tickets
Scruff of the Neck presents
THE REYTONS
This is a band that pulls no punches and makes no apologies. It's safe to say that the lads EP has been eagerly awaited." - Gig Addict
FACEBOOK: https://www.facebook.com/TheReytons/
LISTEN: https://thereytons.bandcamp.com/
TWITTER: @thereytons
---
Raised By Foxes
5 Piece Alternative/Post Rock Band From The North West
FACEBOOK: https://www.facebook.com/RaisedByFoxes/
TWITTER: @RBFbanduk
INSTAGRAM: @raisedbyfoxes_uk
---
DENIO
"A clanging post-punk study in a sterilised test tube where Foals are shaken up with The Cure's DNA'"(GetIntoThis)
FACEBOOK: https://m.facebook.com/denioband/?locale2=en_GB
LISTEN: https://open.spotify.com/track/5yuCYVvM5ILBC2ihKG7iqJ?si=BvMOAGDrRQGspnXAx9-hpA
TWITTER: @denioband
INSTAGRAM: @denioband
??????????????? SCRUFF OF THE NECK ???????????????
"a Super-cool imprint" - Manchester Evening News "Scruff are proving themselves to be instrumental in bringing forward new talent" - Louder Than War "A one-stop-shop for getting acts to the next level" - Ben Ryles, DHP Family "Discovering and developing some great talent in Manchester and beyond, it's exciting to be working with them" - Joe Vesayaporn, Music Glue
??????????????? BOX OFFICE ???????????????
www.scruffoftheneck.com/events
ADVANCE TICKETS: £8
AGE POLICY: 18+
ADDRESS: Basement 80-82 SEEL STREET, Merseyside L1 4BH