The Roots
Parque Marechal Carmona, Cascais.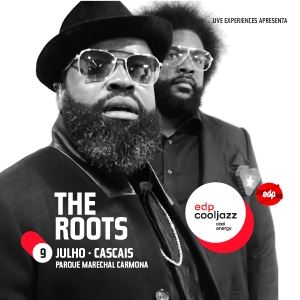 This event is for over 6s only - No refunds will be issued for under 6s.
More information about The Roots tickets
O Parque Marechal Carmona recebe um dos grupos de referência da atualidade: The Roots. A noite de 9 de Julho do EDPCOOLJAZZ prepara-se para ser memorável com a atuação de lendas da música contemporânea mundial. Noite de funky, r&b, soul e hip-hop é tudo o que podemos esperar.
Atualmente residentes como banda e parceria de Jimmy Fallon, no seu programa "Late Night", os The Roots marcam presença na edição de 2019 do festival, numas das raras aparições na Europa.
Em 2002, a música "The Seed" (colaboração com Cody Chesnutt) transportou a banda para uma dimensão de maior reconhecimento, nunca perdendo a áurea de banda de culto, que o mundo vem reconhecendo na ultima década como sendo artistas absolutamente incontornáveis nos dias de hoje. O reconhecimento chega de todas as áreas artísticas. Da colaboração com Elvis Costello no álbum "Wise up Ghost", passando por ligações a John Legend e prémios ganhos em parceria com Erykah Badu, os The Roots apresentam-se na atualidade como um dos coletivos mais importantes e reconhecidos na música atual.
A diferenciação do grupo foi sendo tão notória que rapidamente chegaram os Grammys, nomeações para diversos prémios, e tornaram-se destaque em festivais de renomeada por todo o mundo como o norte-americano Lollapalooza ou o mítico Montreaux Jazz Festival (Suiça). Atualmente são muito mais que um fenómeno do universo da música urbana, e do hip-hop em particular, os The Roots concentram em si a coolness da atualidade. Give it up for The Roots!
Informações The Roots – Facebook/ Instagram/ Site /Spotify/ Twitter / Youtube
Vídeo – https://www.youtube.com/watch?v=ojC0mg2hJCc
THE ROOTS
Abertura de portas - 19h00 | Início concertos (Cascais Jazz Sessions) – 20h30
PLATEIA COM MARCAÇÃO – 55€
PLATEIA EM PÉ – 40€
MOBILIDADE CONDICIONADA – 45€
Mais informações e galeria em www.edpcooljazz.com
Facebook: www.facebook.com/edpcooljazz
Spotify: https://play.spotify.com/user/edpcooljazz
Instagram: http://instagram.com/edpcooljazz
Youtube: https://www.youtube.com/user/edpcooljazz
Promotor
Live Experiences
+351 211 330 783 | info@liveexperiences.pt