The Rose & Crown presents: The Kings Speech (12)
Rose and Crown Hotel, Salisbury.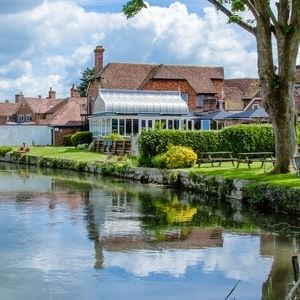 When you receive your booking confirmation please contact the hotel to reserve your dinner time. Tel: 08444 119046.
Dinner reservations from 18:00. Film starts at dusk, approx 21:00.
Under 12s must be accompanied by an adult. We cannot issue refunds to under 12s who are not accompanied by an adult.
After you buy, click
to easily split ticket money with friends.
More information about The Rose & Crown presents: The Kings Speech (12) tickets
On Sunday 27 May, the Legacy Rose & Crown Hotel proudly presents the outdoor pop-up cinema screening of multi-award winning British film 'The King's Speech' (2011).
Lights, camera, action as the ultimate date night experience is brought to life in picturesque Salisbury. Guests are invited to indulge in a delicious three-course dinner in the Rivers Edge restaurant before settling in for an evening of entertainment on the banks of the River Avon. With views across the scenic meadows and river towards historic Salisbury Cathedral, the charming surroundings create an idyllic setting with the outdoor event of the summer.
A hot drinks and a bar stand will be available throughout the film screening for movie goers to keep warm as the sun sets with hot chocolates, teas and coffees. Snuggling in on a blanket or on matching picnic chairs will certainly delight couples seeking a unique night out.
Be transported to England 1939 as Prince Albert (Colin Firth) must ascend the throne as King George VI, whilst dealing with a speech impediment. Knowing that the country needs her husband to be able to communicate effectively, Elizabeth (Helena Bonham Carter) hires Lionel Logue (Geoffrey Rush), an Australian actor and speech therapist, to help him overcome his stammer. An extraordinary friendship develops between the two men, as Logue uses unconventional means to teach the monarch how to speak with confidence.