The Searchers & Hollies Experience Billetter
St Peter & St Paul's Church, Lavenham.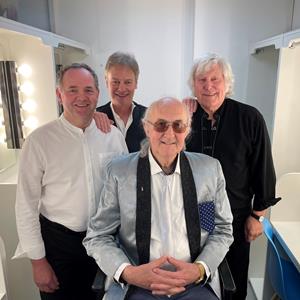 Personer på under 14 år skal ledsages af en voksen. Vi kan ikke udstede refusioner til personer under 14, der ikke er ledsaget af en voksen.
Flere informationer om The Searchers & Hollies Experience-billetter
The Searchers & Hollies Experience (Lavenham Theatre, Suffolk)
A very special Matinee show paying tribute to two of the biggest bands and hits of the 60's performed by the amazing FOD Band.

The Searchers and Hollies Experience... The best of both worlds brings to the stage the magical hits of these two legendary harmony bands. Bringing back memories of the most high-energy decade in pop music history. Let the haunting melodies transport you to that exciting era when millions of records were sold.

The Searchers, from Liverpool made their debut with the rise of MerseyBeat. The very first recording, Sweets For My Sweet went to number 1 in the charts. This was followed at No.2 by their third single, Sugar And Spice. They then went on to have many more memorable chart hits. Who can forget Needles And Pins and When You Walk In The Room. They had many other hits and became part of the British invasion of the American charts alongside The Beatles.

The Hollies, from Manchester were also pushed forward with the rise of MerseyBeat as they played many of the same venues as the Mersey groups. The Hollies are known as the most successful British singles band ever, having had chart hits in every decade since the 60s. Catchy melodic tunes are their trademark and they have had phenomenal chart success. Stay, I Can't Let Go, Bus Stop, Sorry Suzanne, He Ain't Heavy He's My Brother, Here I Go Again, Just One Look and the haunting Air That I Breathe are just a few of their hits.

Click here for show reel and audience comments: https://youtu.be/PtbI6yMz3Os

This show is reserved seating.

On site parking (fee applies). We have a limited number of Self-Contained Camper Vehicles/Caravans parking spaces (24hrs on-site).

All enquiries / disabled bookings directly through OEP Live! Please call the Box Office on 01256 416384.