The Silver Field
Elsewhere, Margate.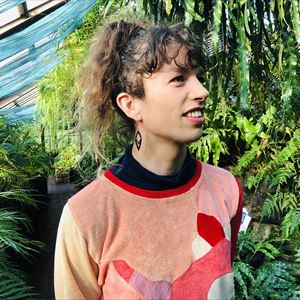 Thi show will take place on Elsewhere's upstairs stage.
Toilets are located in a basement down a set of stairs without step free access.
Licensed bar. Please bring ID.
Elsewhere is less than ten minutes walk from Margate Train Station and less than a minute to nearby bus stops and taxi offices.
Under 18s must be accompanied by an adult. We cannot issue refunds to under 18s who are not accompanied by an adult.
More information about The Silver Field tickets
"Like an imagined dreamscape from a Joan Didion novel"
- Mary Anne Hobbs, BBC 6 Music

The Silver Field is a sound world of Coral Rose & friends. Voice, tapes, bass, strings, reeds, drums, small sounds, big sounds, sunlight, moonlight, a lot of water.

March 2020 sees multi-instrumentalist Coral and drummer Kiran Bhatt (Red River Dialect) take to the road across the UK, sharing songs from their forthcoming second album, to be announced early 2020, as well as selections from The Silver Field's debut Rooms.
Recorded by Coral at home in south London, Rooms was brought to the world in January 2019 by Tim Burgess' O Genesis Recordings and received high praise for its dreamlike tapestries of tape loops, reverb and folk instrumentation, including plays on BBC 6 Music, BBC 3's Late Junction, NTS and Soho Radio, as well as print and online love from The Quietus, Electronic Sound, God Is In The TV and many more.