The Sixties Invasion
The Platform, Morecambe.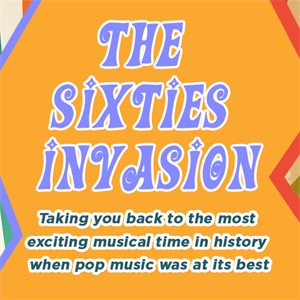 More information about The Sixties Invasion tickets
A night of classic sixties music performed by three bands from the era.

DOZY, BEAKY, MICK and TICH scored a Number One hit in the UK Singles Chart in 1968 with "The Legend of Xanadu". The combined sales figures were in excess of one million copies.

Their other top 10 UK hits included "Hideaway", "Hold Tight!", "Bend It!", "Save Me!", "Touch Me, "Zabadak!" and "Last Night in Soho" "Bend It!" was a big hit in Europe, including a Number One in Germany. The song was inspired by music from the film sound track of Zorba The Greek. The combined UK and European sales were over one million "Bend It!" was later used in an episode of the American animated sitcom Futurama entitled "The Mutants Are Revolting".

The band were big sellers elsewhere in the world, particularly in British Commonwealth countries. In New Zealand, the group had three number one hits, and 7 other songs reached the top 10. In Australia, they reached the top 10 with "Hold Tight!", "Bend It!", "Zabadak!" and "The Legend of Xanadu". In Canada, the band scored two top 10 hits with "Zabadak!", which reached #1, and "The Legend of Xanadu".

CUPID'S INSPIRATION the 1968 hit pop group with original signer Terry Rice-Milton. 'Yesterday Has Gone' hit number four in the charts, followed by chart hits, Dream, My World. The band will also entertain with other well known sixties hits.

THE FOUNDATIONS led by founder member/lead guitarist Alan Warner, delivering a fast-paced, exciting show, packed with hits including, 'Baby Now I've Found You' and 'Build Me Up Buttercup', as well as rarer numbers from the original group's catalogue

At the end of the show the band members will be available for a meet and greet or to give autographs.