The Stunning
Nells Jazz & Blues, London.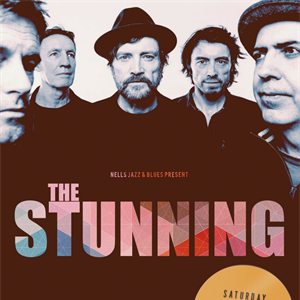 3 North End Crescent
West Kensington,
London.
W14 8TG
Nearest Tube - West Kensington (3mins)
Bus - 74, 190, 430, N74 & N97
More information about The Stunning tickets
The Stunning formed in 1987 in Galway, Ireland. They had their first top twenty single a year later and two more top ten hits before their debut album 'Paradise in the Picturehouse' hit the number one spot in 1990 and stayed there for 5 weeks. The band's diverse musical influences of alternative rock, soul, blues and country resulted in a eclectic mix that audiences loved. They toured constantly for seven years in Ireland, the US and the UK, releasing a second number one album in 1992, followed by a live album in 1993 before splitting up a year later to pursue other projects. In 2003 the band reformed to promote the re-issue of their debut album and embarked on an 18-date tour which turned out to be one of the highest grossing tours in Ireland that year. Around 30,000 people turned out to see them perform in their old hometown of Galway city in the summer of 2012. 'Brewing up a Storm' has become an unofficial anthem and their debut is consistently voted one of the best Irish albums of all time. The band are on the road again and in May 2017 they released a brand new single 'Brighten Up My Life' which has received over 1000 plays on Irish radio to date.