The Suitcase Junket + Frank Burkitt & Kara Filbey
The Rose & Monkey Hotel, Manchester.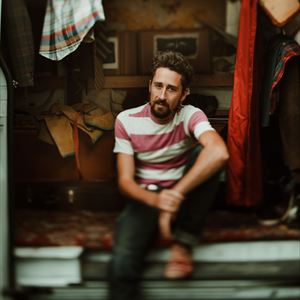 This event is for 18 and over - No refunds will be issued for under 18s.
More information about The Suitcase Junket + Frank Burkitt & Kara Filbey tickets
We are delighted to present a co-headline show by The Suitcase Junket + Frank Burkitt & Kara Filbey. The show takes place at The Rose & Monkey Hotel on Thursday 9th April.
Tickets go on sale tomorrow (04.01) at 9am...
The Suitcase Junket
Swamp-yankee music. The Suitcase Junket is Matt Lorenz's internationally touring, throat-singing, slide guitar playing one-man-band From the salvaged sounds of American juke joints, back porches, honky tonks, and rock clubs, The Suitcase Junket conjures an entirely new sound on his essential rock collection Pile Driver (out April 21, Signature Sounds Recordings).The Suitcase Junket is Matt Lorenz: artist, tinkerer, swamp yankee, one-man band. His is the road-worn voice rising over the grind of a tube-amped dumpster guitar, and the wild double pitches of throat singing. From Lorenz' penchant for thrift and ingenuity comes this full-length Signature Sounds debut of original rock anthems, mountain ballads, blues manifestos and dance-hall festivity. It is magnificent, rousing, image-driven songwriting, layed out on instruments built of broken bottles, thrift store forks, dried bones, gas cans, shoes, saw blades, a toy keyboard, salvaged instruments, and an overhead compartment's worth of luggage.
Matt Lorenz [The Suitcase Junket] was raised in Cavendish, Vermont, the son of schoolteachers. He learned to sing by copying his sister Kate; the siblings are two-thirds of the touring trio Rusty Belle. Lorenz graduated from Hampshire College in Amherst, Massachusetts, in 2004, having taught himself to throat-sing, inspired by a South Indian cooking class. On moving day, he pulled a guitar, filled with mold and worse for wear, from a dorm dumpster. He fixed it up and started pulling songs out of it. That was the beginning.
Since then, The Suitcase Junket has built a powerful fan base in his native New England and far beyond. Festival plays -- past and forthcoming -- include Mountain Jam, FloydFest, FreshGrass, Green River Festival, Hardly Strictly Bluegrsas, Joshua Tree, and Winnipeg Folk. The Suitcase Junket has combined streams of 1.25 million on Spotify and was named to Spotify's Best of 2016 Folk & Americana and Blues & Roots Rock playlists. Lorenz caught the attention of National Public Radio who chose his video session for "Earth Apple" from his 2015 album Make Time as one of the year's favorite sessions. His music puts him in the company of artists working the border of Americana and rock -- Shovels & Rope, M. Ward, Edward Sharpe & The Magnetic Zeroes, & Rope, M. Ward, Edward Sharpe & The Magnetic Zeroes, Sam Amidon, Alabama Shakes, and The Record Company.
"Vast talents... dirty, raw." - Pure Volume, March 6, 2017
"Lorenz isn't your traditional Americana musician, not by a long shot... Would fit in nicely on a playlist alongside artists such as Shovels & Rope and the Drive-By Truckers." - Amy McCarthy, The Boot, March 16, 2017
"Pursuing your musical career as a one-man band takes a high level of charisma and stamina if you want to keep your audience entertained. Luckily, Matt Lorenz possesses both of those things and he puts them to use as the Suitcase Junket. The New England musician is also talented as a craftsman and as a lyricist... Using his makeshift instruments, Lorenz creates electric music that walks the line between rock and roll and Americana." - Glide Mag, February 13, 2017
"Now this is the shit I'm talking about, Jack. The Suitcase Junket is a lo-fi, low-tuned, low-down blast of end-times folk blues. It's crude; it's magnificent. With a stage set-up that resembles a junkyard foley stage or Fred Sanford's living room, The Suitcase Junket — one man band leader Matt Lorenz — incants and intones like a cross between Hound Dog Taylor and a Tuvan throat singer who has swallowed a bird. Take the singer-songwriter idiom, give it a low grade fever and a guitar and this is what you get. Captivating, mesmerizing, and gone ... real gone." -- Frank De Blase, Rochester (NY) City Newspaper, January 13, 2016
"If croons could kill, this one-man band would be a bounty hunter. Armed with a unique, self-sufficient approach to raw instrumentation, The Suitcase Junket is an artisan of song, bending, forging and sharpening each piece into an emotional tool." -Performer Magazine
He deploys his oddball, lo-fi but forceful sound in the service of well-conceived, engaging songs with literate and interesting lyrics." "The Suitcase Junket is much more than a curiosity or a novelty act, he's a serious artist who shouts and winks at us at the same time, and has deep things to say to an open mind.
- Seattle Post Intelligencer.
"His songs have a sense of beauty about them and are delivered with such forceful sound you can't believe you aren't listening to a full band." - Greenfield Recorder
Frank Burkitt & Kara Filbey
Scottish born Frank Burkitt has been performing for 15 years with partner and vocalist/flautist Kara Filbey. They met in Edinburgh in 2004 and have since lived and toured extensively throughout the UK, New Zealand and Australia.
Playing a broad mix of original and traditional Scottish folk songs, Americana and country ballads, Burkitt's highly intelligent songwriting is what sets him apart, as well as his relaxed stage presence and ability to tell great stories.
On moving to New Zealand in 2014, they formed The Frank Burkitt Band with whom they were awarded the Vodafone New Zealand Music Award (Tui award) for Best Folk Artist 2019. When
not touring with the full band, they relish the chance to perform their intimate duo set.
Two voices that have had 15 years to blend and produce the closest, most stunning harmonies that you'll hear. Captivating and intimate performers that will entertain and enchant.
"The sincerity and heart that emanates from his song-writing is
endearing. People who are truly great at their craft make what
they do seem easy." Janise Kumar -
muzic.net