The Surfing Magazines Tickets
Elsewhere, Margate.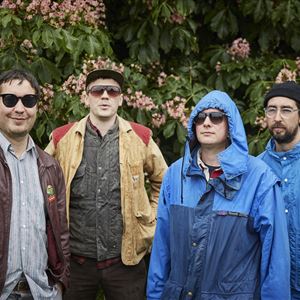 Venue is located in a basement down a set of stairs without step free access.
Licensed bar. Please bring ID.
Elsewhere is less than ten minutes walk from Margate Train Station and less than a minute to nearby bus stops and taxi offices.
More information about The Surfing Magazines tickets
Consisting of one half of Slow Club and two thirds of The Wave Pictures, The Surfing Magazines' primary influences are Bob Dylan, The Velvet Underground and all the great surf guitar music of the 1960s. They burst onto the scene with their eponymous debut album in 2017, a lauded LP described by Record Collector Mag as "a vintage-yet-modern rock'n'roll classic".

Mixing the noir surf textures of 1960s garage rock along with westcoast sun beaten harmony pop, the 17-track Badgers of Wymeswold follows the acclaimed debut and is to be released July this year. The London based foursome recorded the album at Ranscomb Studio in Rochester in February last year before the start of the first UK lockdown.

Pushing their sound forward, the band utilise their garage rock ethic and have both Drummer Dominic Brider and Rhythm guitar player Charles Watso lead on vocals across multiple tracks. The album sees a return of free form saxophone parts, eerie violins and piano all appear, notably on tracks 'Nostaw Boogie' and 'I'm Going Out...