The U2 Experience Bilhetes
Alexander's Live, Chester.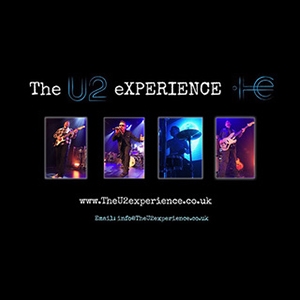 https://youtu.be/HIzZrt8P3sI
Este evento é somente para maiores de 18 anos. Nenhum reembolso será concedido para menores de 18 anos.
Mais informações sobre The U2 Experience
Four outstanding and highly experienced musicians united by a common passion – their love of the music of the legendary U2 across the decades – have joined forces to deliver a breath-taking show that will have you imagining that U2 are performing personally for you…..
Based at their own recording studios in The Midlands, and therefore centrally placed to travel to any corner of the UK and beyond, the band are acclaimed for their attention to detail and the authenticity of their sound, and indeed have been described as the most authentic sounding tribute to U2 anywhere in the UK, and possibly the world.
Faithfully recreating U2's plethora of hit singles spanning the years, but also a wide selection of their best loved album tracks and live recordings, The U2 Experience are much more than a "greatest hits" band, and will thrill the most ardent and discerning of U2 fans, as is clearly demonstrated by their reviews.
The U2 Experience show is enhanced with sequenced lighting, backdrop visuals and special effects to complement the stage and audio experience, all combining to deliver a simple message – if the real U2 aren't available, go for The U2 Experience!
The band are fully self-sufficient, with p.a. system, lighting rigs and back-screen, and are happy to consider corporate and private events as well as public shows and festivals.
So if you miss U2, get the experience -
The U2 Experience!
Please note start time and line up subject to change. All shows are standing only with limited unreserved seating unless otherwise stated.
For access requirements please contact us via the access page of our website here:
https://alexanderslive.com/accessibility/