The Upside Down Cabaret Tickets
The Live Rooms, Chester.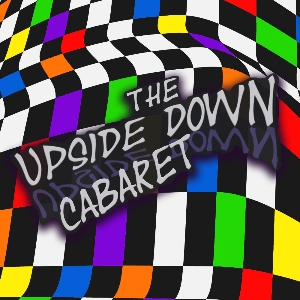 Please be advised that this show is recommend for audiences aged 16+ due to adult humour and partial nudity. Visitors under the age of 18 will need to be accompanied by a companion of at least 18.
16+ only. 16s to 17s must be accompanied by an adult. No refunds will be given for incorrectly booked tickets.
More information about The Upside Down Cabaret tickets
Your resident host with the most Mr Brake Down is back with another vivacious and varied helping of drag, burlesque, live singing and beyond. Begin your night with a pre-show musical extravaganza from Jen Jen Jen, offering a live set of merry covers and mirthful original tracks to settle you into showtime. First up on the main roster, a warm welcome to our returning burlesque starlet Kitty De Vyne, who has some spicy new moves to show us fresh from her recent smash hit at Chester Pride. Next up we're proud to present a visiting drag queen from the Coventry scene, Kayleigh Valentine, a vibrant ball of energy bringing all sorts of joy and entertainment to every community that encounters her beautiful spirit. Repping for the kings alongside Brake this month, we're in for a treat as Shropshire royalty Jenn Deere delivers a hilarious debut that's sure to have you all feeling his Kenergy. And the laughs just keep on coming with Angela Bra, an acclaimed musical comedy drag queen full of pop, parodies and puns fresh from this year's Edinburgh Fringe Festival. The Upside Down is always a night filled with mischievous thrills, melodious tunes and many a titter, so grab your tickets without delay!
The Upside Down Cabaret offers you a show where things are never quite as they seem, and performers from many weird and wonderful walks of life find their moment to shine. From outrageously funny drag performances to dancing divas, comedy, burlesque, live singing, cross-cultural and multimedia performances, there's something different every time you walk through these doors…
This LGBTQIA+-led event promotes queer artistry of all kinds, with performers from neurodivergent, disabled and marginalised backgrounds as well as showcasing the best in new and alternative drag, pop culture and nerdlesque, parody and satire, multimedia performance art and beyond. Hosted by local drag king Mr Brake Down, the show promises thrills, laughter and quality entertainment in an inclusive joyous space. Come turn your world Upside Down for the night.