The Vapors Tickets
The Factory Live, Worthing.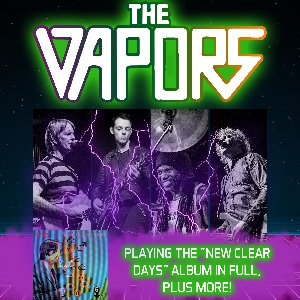 More information about The Vapors tickets
The Vapors

UK New Wave band formed in 1979 in Guildford-
The band were co-managed by Paul Weller's Father
John and The Jam Bass player Bruce Foxton.

They were discovered by Foxton whilst playing in a pub in Guildford and invited to tour with Paul Weller and The Jam on the Setting Sons tour.
The band hit the big time in 1980 when 'Turning Japanese' reached number 3 in the UK charts and also hit Number 1 in Australia, Canada and Billboard Top 40 in the USA.
The song was used in hit films such as '16 Candles and Charlies Angels' and regularly features on Punk and New Wave compilation albums.
After a number of
other single
releases including 'News at Ten and Jimmie Jones' and
2 critically acclaimed albums 'New Clear Days' and 'Magnets'

the band parted company.
Guitarist Ed Bazalgette went on to become a successful BBC TV director with recent credits including 'Poldark' and
'Dr Who' whilst lead singer
Dave Fenton became a Music Lawyer.
The band reformed in 2016 and since then have played over 100 gigs including a 3 nigh residency at the Mercury Lounge in NYC and a 22 date run across the USA on the Lost 80 Live tour playing at such prestigious venues like The Greek Theatre in Los Angeles.
In May 2020 the band released their 3rd studio album entitled 'Together' engineered by legendary Producer Steve Levine.
In 2021 Cherry Red Records released a 4 cd Box set featuring New Clear days and Magnets, a disc of demos and unreleased material and a live gig recorded at The Rainbow whilst supporting The Jam.
In October 2021 both New Clear Days and Magnets were re-released on coloured vinyl
Plus support from Phun City