THE WARNER E. HODGES BAND
The Old Cold Store, Nottingham.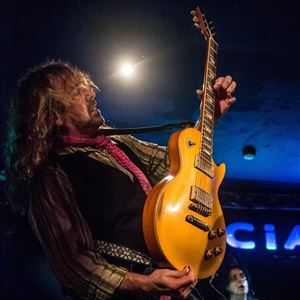 This event is for 16 and over - No refunds will be issued for under 16s.
More information about THE WARNER E. HODGES BAND tickets
World-renowned six-string pioneer, Warner E. Hodges, continues to blaze trails with his signature brand of guitar driven rock.
Born in Wurtzburg, Germany, Warner cut his teeth on the music of his father, Edger, a serving U.S. Army officer, and his mom, Blanche, who both fronted a USO country music outfit on base. The Hodges family settled in Nashville TN upon returning to the states and Warner soon found himself playing drums in his parents' band. The bolt of lightning that compelled him to switch to guitar hit at an AC/DC concert in 1973. By the end of the 70's, the punk movement had invaded Music City U.S.A. and Hodges' high octane approach to life and the guitar were a perfect match for the burgeoning DIY scene. These early sparks were about to catch and Warner's legacy was about to begin. Fast forward to 1981.
"Help Me Warner Go!" Both words of warning and a battle cry, all in one. Signaling the spinning, smoking, spur-wearing Hodges to action in front of rabid fans of Jason & The Scorchers, the mold-breaking, original wild child of rock n roll aggression and country music roots. The WEH sound is the perfect volatile mixture of these juxtaposed musical brothers. Part Jimmy Page, part Don Rich, Warner blends the two like no other player in history, period! With 10 albums to their credit, The Scorchers are still turning on and inspiring a new generation of alt-country fans and artists..
Warner E. Hodges is a busy man these days. In 2009, he joined Dan Baird & Homemade Sin, has recorded six studio albums, including 2017's Rollercoaster, and has relentlessly toured internationally with the former Georgia Satellite. Always searching for new creative roads to explore, Warner formed The Bluefields in 2011, an American rock group from Nashville, where he can stretch his imagination on instruments ranging from Les Paul's to ukuleles! The band has recorded 3 well-received studio albums, including 2014's Under High Cotton.
When Hodges hits the road in 2020, it'll be a while before the dust clears. Warner will be bringing his latest albums Right Back Where I Started and Gunslinger to life for European fans with the Warner E. Hodges Band.
DIVIN 'N' CRYIN
Atlanta, Georgia based folk rock act, Drivin N Cryin, have spent most of their career on tour. In October 1985 Drivin N Cryin played their first show at Atlanta's famed 688 Club. The band quickly gained attention for their blistering live shows, and amassed a rabid fan base in the fertile soil of the late-1980s Southeast music scene.
With a gold record, 10 full-length albums, and a handful of EPs to their credit, the band still refuses to rest. In 2012, a documentary about the band, entitled Scarred but Smarter: Life n Times of Drivin' N' Cryin', was reduced. In 2015, a collection of 10 choice cuts from the band's 4-EP "Songs" series, entitled Best of Songs, was released on Nashville's Plowboy Records. Additionally, the band was inducted into the Georgia Music Hall of Fame that same year. The band's new full-length album, produced by Nashville's Aaron Lee Tasjan and featuring Laur Joamets (former Sturgill Simpson band member)