THEDREAMVR - Real Madrid Experience
Smartphone, Samsung Smart TV, VR Devices.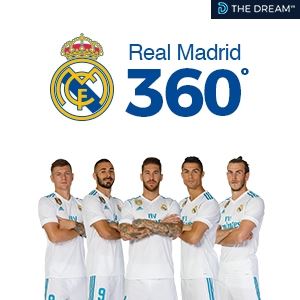 More information about THEDREAMVR - Real Madrid Experience tickets
First emotional video that is part of the new official channel of Real Madrid C.F. in 360º & VR. The Madridistas will live a unique experience of feeling as if being inside your club and the Santiago Bernabéu Stadium during a game day.
Get your ticket now, you cannot miss it!
Check out the instructions!
* PRODUCT AVAILABLE JUST FOR MOBILES SUITABLE FOR 360. DOWNLOAD THE APP THEDREAMVR TO VERIFY AND BUY!
Product available only for mobiles compatible with 360. Download the app The Dream VR, to verify and buy!
Android 6.0
IPhone S6
Apple TV última generación
Samsung Smart TV 2015/2016/2017
IPad desde modelo III
Tablet Android 6.0 con gyroscope
VR: Oculus Rift, Samsung Gear, HTC, Cardboard, Google Daydream
The purchase of one product gives the right to view the 360/VR content until the content piece expires on March 1st 2019
For more information check out our website
SMARTPHONES:
AppleStore: http://apple.co/2i94Blr
Google Play: http://bit.ly/2j8OaCp
SMART TVS:
Samsung Smart TV: http://goo.gl/IMt9kF
VR PLATFORMS:
Oculus: http://ocul.us/2nXK1US
Daydream: https://goo.gl/wmmdVN