Thirty Seconds To Mars
Manchester Arena, Manchester.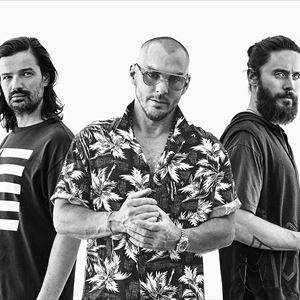 Ingen personer under 16 i området for ståpladser, personer på 0 - 14 skal ledsages af en voksen i siddeområdet. Fejlreserverede billetter refunderes ikke.
Flere informationer om Thirty Seconds To Mars-billetter
Please note

Ticket Restrictions are:

Standing - 2 per person
Seated - 4 per person

THE NAME OF THE LEAD BOOKER WILL BE PRINTED ON EACH STANDING TICKET.

The name cannot be changed once the purchase has been made.

When the lead booker attends the show they will be asked to
present matching PHOTO ID to gain entry to the venue.

IF THE ID DOES NOT MATCH YOU WILL BE REFUSED ENTRY. Failure to adhere
to the terms and conditions may result in the customer's order being cancelled.

PLEASE NOTE: If you are booking more than one standing ticket, your guests must
arrive at the concert at the same time as the lead booker.
Guests should not arrive separately as they have no matching
photo ID and can only gain access with the lead booker and ticket
bearing the lead booker's name

Under 14 must be accompanied and no under 14s go on the floor for standing floor shows.

Children shows allow babes in arms up to 23 months however some shows specifically targeted at younger audiences require a ticket for anyone attending the performance. Please check the relevant show's event page for further details.