This Is The Kit
Brudenell Social Club, Leeds.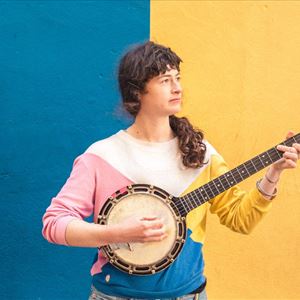 14+ only. 14s to 15s must be accompanied by an adult. No refunds will be given for incorrectly booked tickets.
More information about This Is The Kit tickets
"I've been thinking a lot about truth and storytelling and the way that stories and truth change over time according to who's telling them or who's listening to them," says Kate Stables. "How personal stories accidentally become representative of bigger stories. How as groups and individuals, as humans, we use and need the stories we tell."
Ten years and four albums deep, the story of This Is The Kit — the musical project that holds Stables at its heart, is itself one of time and change and careful listening. It has carried Stables from Winchester to Bristol to Paris (where she's lived for the last ten years), across tours and festivals and the adoration of her peers: Guy Garvey, The National, Sharon van Etten among them. And it leads her now to Moonshine Freeze, her Rough Trade debut, and her most stunning and accomplished and compelling album to date.
Moonshine Freeze began in the immediate wake of its predecessor, Bashed Out: days after coming off tour last November, Stables and her band (Rozi Plain, Jamie Whitby-Coles, Neil Smith) headed into the studio in Bristol. "This time I really wanted to make sure that the band was fully involved from the beginning," she says. "They're three of my favourite musicians, and what they do with their separate projects and what they bring to This Is The Kit is brilliant. It's really amazing that they are still up for being in the band. It's no mean feat of endurance."
Stables enlisted John Parish (PJ Harvey, M Ward, Perfume Genius) to produce, having worked with him on the band's debut, Krulle Bol. "He is just an excellent human," she says. "I love being in his company and learning from him and seeing the way he works. It felt like a good time to work with him again, and see how everyone's grown or changed or stayed the same. It's nice to have those cycles."
Though the album's songs were already written, Stables says she had no fierce vision for how they should sound, preferring to let them take shape with the input of her band and Parish. "I'm not yet someone who says 'I want this album to sound like an 80's French nightclub'," she says. "All I can do is write the songs and then step back from them and see what themes or patterns there are, then bring those patterns out so it's a coherent piece of work, sonically and in terms of feeling."
The themes and patterns that emerged in Moonshine Freeze encompass ideas of folklore and oracles, memory, language, secrets, superstition, lives out of sync, and "the strange accidental fortune telling nature of the writing process." Ideas fed by the writing of Ursula Le Guin and Alan Bennett, the African folk stories collected by the ethnomusicologist Hugh Tracey, by grey coastal days and the taste of blood and copper coins.
If these ideas seem disparate on paper, it is Stables' great songwriting gift to draw together such diverse fragments to reveal something of intense beauty and wisdom. On All Written Out in Numbers, for example, she seizes on ideas of astronomy, numerology, echoes of the song Green Grow the Rushes, faith and mathematics to explore the notion of human beings trying to understand both the universe and their individual place within it. Or on Easy On the Thieves she is examining wrongdoing and personal responsibility, the want for blood, the desire to consume, our appetite for sensationalist tabloid stories as a way to avoid ourselves. "As artists we end up writing about stuff that we're trying to decode or come to terms with, the tough stuff," she says. "It's how can I untangle this mess? A lot of songwriting is untangling."
Sonically, Moonshine Freeze is a beguiling mixture of great musical sophistication and something more guileless — children's games, songs, incantations and snatches of nursery rhymes. Somewhere between them, between the extraordinary accomplishment of the closing piano swell of Solid Grease or the arresting banjo line of Empty No Teeth, and the buried rhythms of long ago, This Is The Kit create something quite mesmerising, a sound seemingly unbound by time or place. Stables' voice too is a remarkable thing: in its angles there lies an exquisite strangeness reminiscent of Will Oldham, Magnolia Electric Co, Robert Wyatt, Karen Dalton.
Speak to Stables about her songs and she'll describe them not in terms of structure or instrumentation but in more evocative and esoteric terms, of how the sound of title track "is a big clumsy creature lumbering it's way towards you. It's the past present and future coming to get you." Or of how Riddled With Ticks sounds like "an exceptional day in an exceptional place."
"There are certain images that pop into my head when I'm writing songs," she says, "and with a lot of these songs I can picture them all in the same environment, the same colours and the same lighting. They all happen at night where there's a small amount of light in a dark place." With the track Hotter Colder, for instance, she thinks "about Durdle Door at Lulworth Cove, where you swim out under this archway and it's just insanely deep dark water teeming with seaweed, and it's very easy to get totally freaked out by what is under the water. Those colours and that light is in throughout the album I think. Shadows in the darkness and not quite knowing what you're looking at. Things, creatures, ideas, leading you through situations."