Thomas Benjamin Wild Esq. Tickets
The Cavendish Arms, London.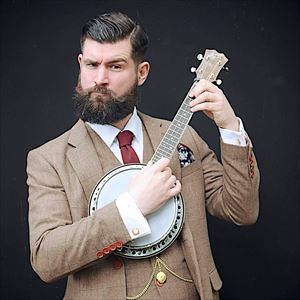 More information about Thomas Benjamin Wild Esq. tickets
Viral Sensation Thomas Benjamin Wild Esq. makes a return to the capital with an evening of comedy songs, raucous singalongs and a snappy wardrobe to boot!

With banjolele in hand, Thomas has been delivering his own brand of singalong, musical humour since 2016. The video for his sweary anthem 'I've No More F***s To Give' has been viewed over 14 million times on YouTube alone, and his debut album 'Awkward Encounters While Walking My Dog' reached number 3 in the Billboard Comedy Album Chart in 2019.
Thomas takes inspiration from the wit and wisdom of the songwriters of the early-mid 20th century and combines them with punk rock sensibilities to create pithy songs full of catchy tunes and social and political commentary that speak volumes about the times we live in.