Thomas Benjamin Wild Esq & Friends Tickets
The Dorothy Pax, Sheffield.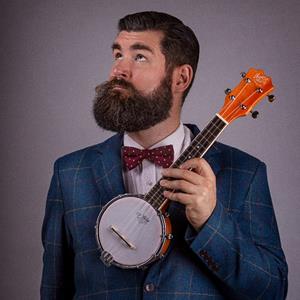 More information about Thomas Benjamin Wild Esq & Friends tickets
With banjolele in hand, viral sensation Thomas Benjamin Wild Esq. has been delivering his own brand of singalong, musical humour since 2016. The video for his sweary anthem 'I've No More F***s To Give' has been viewed over 11 million times on YouTube alone, and his debut album 'Awkward Encounters While Walking My Dog' reached number 3 in the Billboard Comedy Album Chart in 2019.
Thomas takes inspiration from the wit and wisdom of the songwriters of the early-mid 20th century and combines them with punk rock sensibilities to create pithy songs full of catchy tunes and social and political commentary that speak volumes about the times we live in.

Dead Mans Uke are an award winning two man band playing dirt swing, hokum and old blues tunes as well as crazy covers and anything else they fancy on double bass and a resonator ukulele that belonged to Tiny Tim... They play shows in bars, music venues, parties, theatres and are festival favourites with shows recently across the UK and in Prague, Dublin, Austria, Paris, Berlin, Poland, Bavaria, Las Vegas, Palm Springs and even Saudi Arabia!

Jangly-guitar rock and a biting sense of humour meet in the storytelling songs of Chris Tavener. A theatrical musician with an acerbic wit, Tavener writes his lyrics from the perspective of flawed characters that he draws from 21st century life.
His cynical social commentary, dressed in punchy guitar-driven rock and acoustic ballads has won him acclaim from BBC 6 Music and multiple BBC Introducing stations. He's popular for his unique and theatrical live performance that has seen him sharing the stage with Super Hans, Tony Hadley and Peter Hook while also writing songs for the likes of Sir Ian McKellen.