Thriller Live
The Hawth, Crawley.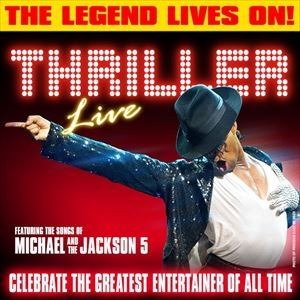 More information about Thriller Live tickets
The glitz and glamour of the West End is coming to Newmarket on Friday 19th July

Following the success of The Jacksons in 2017, and Magic of Motown in 2018, The Jockey Club Live and Newmarket Racecourses are thrilled to announce the first show for the 2019 Newmarket Nights season; direct from London's West End - THRILLER LIVE.

After opening in the Lyric Theatre in London on 2 January 2009 to rave reviews, Thriller Live has since embarked on several world tours, played over 6500 shows globally to over 5 million fans, visited over 30 countries.

BROUGHT BY THE JOCKEY CLUB LIVE

Taking you on an electrifying visual and audio journey through the magic of Michael's 45 year musical history, you'll experience over two hours of non-stop hits from pop to rock, soul to disco. Paying homage to Jackson's legendary live performances and innovative dance moves executed with flair, precision and passion this is a show that you will never forget.

Expect your favourite songs delivered by an exceptionally talented cast and band, including: I Want You Back, ABC, Can You Feel It, Off The Wall, The Way You Make Me Feel, Smooth Criminal, Beat It, Billie Jean, Dirty Diana, Bad, Rock With You, They Don't Care About Us, Dangerous, Thriller plus many more!


FAQ: https://www.thejockeyclub.co.uk/newmarket/visitor-info/live-music-faqs/





-Newmarket Nights Ticket & Child Policy

As Newmarket Nights is our Friday evening racing plus music events, artists take to the stage at any time from 8:30pm, our recommendation is that Newmarket Nights are not suitable for children under 16.

Whilst we recommend that these events are not suitable for children under 16, if you do wish to bring them as part of your party, at your discretion, they can attend as long as they possess a valid ticket to gain entry and there is a responsible adult of 18 and above to every two children under 16.

We take every precaution to try and ensure everyone has a safe and enjoyable time at all of our events. If you do decide to bring a child under 16, we would suggest against taking them into the most densely crowded areas, which includes the large area in front of the stage.

Newmarket Racecourses have a range of family friendly events throughout the summer, including our popular Summer Saturday's series whereby children under 18 are permitted free. Our racing plus music afternoon events, Summer Saturday Live, are our family friendly events of this type which have an allocation of concession tickets for children available.

It is your responsibility to check the suitability of an event for any children in your party regardless of official age restrictions, this includes considering the type of audience the event is likely to attract and whether such an audience is a suitable environment for children in your party. Refunds will not be issued if any aspect of an event, including the behaviour of other audience members, causes offence to you or any children on whose behalf you have purchased tickets.

We do not recommend subjecting babies and young children to loud music. Children are recommended to wear hearing protection if you decide to bring them. A concert environment is not suitable for very young children.